News
Aperol Spritz
by XuCharles on Mar 27, 2023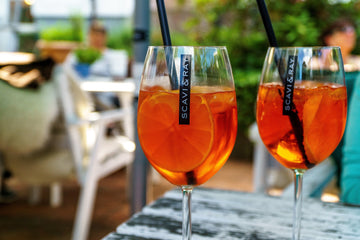 Background:
The world of cocktails is a vast and creative one, with bartenders and mixologists constantly experimenting with new combinations and flavors. One such cocktail that has become increasingly popular in recent years is the "Aperol Spritz," a refreshing and light drink that originated in Italy.
Ingredients

Quantity

Aperol

3  oz

Prosecco

3  oz

Club Soda

1   oz

Orange Slice

 

Ice

Moderate
Tools

Wine Glass

Jigger
Directions Step-by-Step:
Fill a wine glass with ice.
Add 3 oz of Aperol to the glass.
Add 3 oz of Prosecco to the glass.
Add 1 oz of club soda to the glass.
Stir gently to combine.
Garnish with an orange slice.
Notes:
For a sweeter version of the drink, add a splash of orange juice or a few drops of simple syrup.

For a stronger version of the drink, increase the amount of Aperol and Prosecco.
Summary:
The Aperol Spritz is a refreshing and light cocktail that is perfect for any occasion. With only a few simple ingredients and tools, you can easily create this drink and impress your guests. The combination of Aperol, Prosecco, and club soda creates a well-balanced flavor that is both sweet and bitter, while the orange slice garnish adds a touch of freshness. Whether you're sipping it by the pool or enjoying it at a party, the Aperol Spritz is a delicious and easy-to-make cocktail that will leave everyone wanting more.