News
Whiskey Ginger
by XuCharles on Apr 26, 2023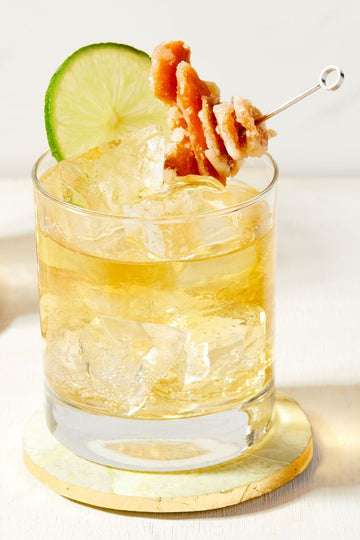 Background:

 
Is there any whiskey cocktail more iconic and simple than a whiskey ginger? It's just two ingredients but it' s truly one of the best bubbly/spirit combinations out there. To go the extra mile, we wanted a homemade, showstopper garnish, and we couldn't think of anything more fitting than fresh, spicy candied ginger. Not only does it look great atop a drink but it's also great for snacking (and keeps for weeks).
Ingredient:
FOR CANDIED GINGER:
1/4 lb. ginger, peeled and sliced into 1/8" coins
water
Approx. 1/4 lb sugar (about 1/2 cup and 1 tbsp)
FOR COCKTAIL:
2 oz. whiskey
5 oz. ginger ale
Lime wheel
4-5 candied ginger
Toothpick 
Steps:
FOR CANDIED GINGER:
Step 1In a medium saucepan bring, enough water to cover ginger to a boil. Add ginger and reduce the heat to medium low.  Simmer for 30 to 35 minutes or until the ginger is tender and slightly pliable. Strain ginger, reserving 1 tbsp of water.
Step 2Wipe the medium saucepan dry, then add cooked ginger, reserved cooking liquid, and enough sugar that equals the weight of the cooked ginger. Bring ginger to a boil, then reduce the heat to medium low. Stir frequently to keep any sugar from burning.
Step 3Allow to simmer for 15-20 minutes or until the liquid has totally evaporated and the sugar begins to crystalize on the ginger pieces. Move ginger piece to a parchment lined baking and allow to cool completely. Store in an airtight container and it should keep for a few months.
FOR COCKTAIL:
Step 1Fill a rocks glass with ice. Add whiskey then ginger ale. Garnish the rim with a lime wheel. Thread the candied ginger pieces onto a toothpick then stick the end of the toothpick into the lime and serve.
Conclusion:
Cocktails are best enjoyed right after making and do not work as a make-ahead drink because the soda will go flat. 
If you tried this classic cocktail, let us know how it came out in the comments below!
Thank you for visiting Hooloo Distill. Don't forget to check out our
shop for any supplies or equipment you may need for any future distillations.
Encounter Hooloo, Enjoy distillation life.