News
Bee's Knees Cocktail
by XuCharles on Apr 12, 2023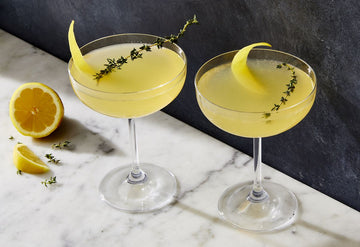 Background:
For those who love gin, this bright, juicy cocktail will definitely live up to its name. With only three essential ingredients—honey, lemon, and gin—a good Bee's Knees perfectly highlights the complex flavors of the starring spirit. Though this Prohibition-era drink may have been created to mask less-than-ideal bathtub gin, it's still popular today thanks to its refreshing simplicity.  
Ingredient:
¼ cup hot water, divided
1 ½ tablespoons Astor Apiaries NYC Raw honey, divided
2 cups ice cubes, divided
6 ounces (3/4 cup) gin (such as Plymouth), divided
3 ounces (6 Tbsp.) dry vermouth, divided
3 ounces (6 Tbsp.) fresh orange juice, divided
2 ounces (1/4 cup) fresh lemon juice, divided
8 ounces (1 cup) chilled club soda, divided
6 (3-in.) orange rind strips, divided
6 (3/4-in.) blocks honeycomb, frozen on cocktail picks
Steps:
1 Combine 2 tablespoons hot water and 2 1/4 teaspoons honey in a cocktail shaker. Add 1 cup ice, 3 ounces gin, 1 1/2 ounces vermouth, 1 1/2 ounces orange juice, and 1 ounce lemon juice. Cover with lid; shake 1 minute.
2 Strain into 3 glasses; top each with 1 1/4 ounces club soda. Repeat procedure. Place 1 rind strip in each glass; garnish with honeycomb.
Conclusion:
Made this? Let us know what you thought in the comments below!
Thank you for visiting Hooloo Distill. Don't forget to check out our
shop for any supplies or equipment you may need for any future distillations.
Encounter Hooloo, Enjoy distillation life.