News
Bloody Mary Recipe
by XuCharles on Mar 13, 2023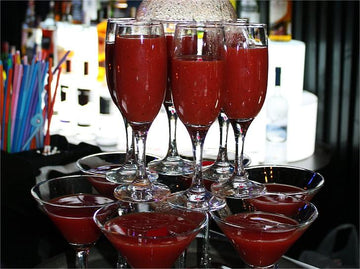 The Bloody Mary is a traditional cocktail that is widely popular for its unique taste and visual effects. Usually a mix of tomato juice, vodka and some condiments, this cocktail is often seen as a tonic drink, enjoyed for breakfast or on a weekend morning. If you want to learn how to make this drink, the following article will give you detailed instructions on how to make it.
Ingredient

Quantity

Tomato juice

120ml

Vodka

50ml

Lemon juice

10ml

Chili sauce

1tsp

Celery

1

Crushed ice

Appropriate amount

Salt

Appropriate amount

Black pepper powder

Appropriate amount
Tool

Goblet

Shaker

Spoon
Detailed steps:
Pour some crushed ice into a tall glass and sprinkle some salt on the rim for a nicer look.

Put 120ml of tomato juice, 50ml of vodka, 10ml of lemon juice and 1 teaspoon of chilli paste into a shaker and stir well with a spoon.

Pour the blend into a tall glass filled with crushed ice.

Insert a sprig of celery into the glass and let it protrude from the rim for added texture and aesthetics.

Finally, sprinkle an appropriate amount of black pepper and stir well.
Notice:
1.If you like it spicier, add more chili paste to the shaker.
2.The tomato juice can be adjusted to your taste, and you can choose to add tomato paste if you prefer a thicker texture.
3.During the preparation process, we must pay attention to hygiene and use clean cups, shakers and spoons.
Summarize:
Making a Bloody Mary cocktail is not complicated and requires only a few simple ingredients and tools. By combining tomato juice, vodka and some spices, and adding just the right amount of crushed ice, salt and black pepper, you can easily make a tasty and fun cocktail!