News
Blueberry Lemonade Margaritas
by XuCharles on Apr 20, 2023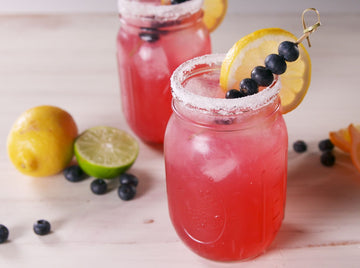 Background:
Turn your margarita into summer goals with this blueberry lemonade version. It's just what you've been missing. Have some leftover blueberry simple syrup? It tastes AMAZING in seltzer water, and is a great sweetener for iced tea. You can even stir it into yogurt or ice cream for a punch of blueberry flavor. 
Ingredient:
FOR THE SYRUP
1/4 c. granulated sugar
1/4 c. water
1/2 c. blueberries
Zest of 1/2 lime
FOR THE MARGARITA
2 tbsp. granulated sugar
2 tbsp. kosher salt
1 lemon, cut into wedges
8 oz. tequila
4 oz. triple sec
1 c. lemonade
Ice
Steps:
Step 1In a medium saucepan over medium heat, combine sugar and water and stir until sugar has dissolved. Add blueberries and lime zest and bring mixture to a boil. Reduce heat and simmer mixture until blueberries have burst, about 5 minutes.
Step 2Remove from heat and let cool 10 minutes, then strain mixture into a clean jar. Let cool completely.
Step 3On a small plate, stir together sugar and salt. Rim each glass with a lemon wedge, then dip in sugar salt mixture. 
Step 4Divide tequila, triple sec and lemonade between 4 glasses. Fill each glass with ice, then top with blueberry syrup. 
Step 5Garnish with a lemon wedge to serve.
Conclusion:
Cocktails are best enjoyed right after making and do not work as a make-ahead drink because the soda will go flat. 
Made this? Let us know what you thought in the comments below!
Thank you for visiting Hooloo Distill. Don't forget to check out our
shop for any supplies or equipment you may need for any future distillations.
Encounter Hooloo, Enjoy distillation life.