News
Cranberry Orange Whiskey Sour
by XuCharles on Jun 01, 2023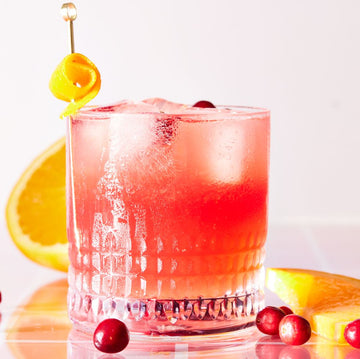 Background:
Cranberry Orange Whiskey is a delicious and refreshing cocktail that combines the tangy flavors of cranberries and the vibrant essence of oranges with the smoothness of whiskey. This delightful blend of ingredients creates a harmonious balance of sweet and tart notes, making it a delightful choice for any occasion. Whether enjoyed on a sunny afternoon or as a cozy evening drink, the Cranberry Orange Whiskey cocktail is sure to impress with its enticing flavors.
Ingredient:
Ice
1/2 c. cranberry juice
4 oz. whiskey
1/4 c. simple syrup
1/4 c. freshly squeezed orange juice
Juice of 1 lime
4 oz. ginger beer
Steps:
Step 1
Fill a cocktail shaker with ice and add cranberry juice, whiskey, simple syrup, orange, and lime juice. Shake until well chilled.
Step 2
Fill two glasses with ice and strain mixture into glasses. Top off with ginger beer to serve.
Conclusion:
Cocktails are best enjoyed right after making and do not work as a make-ahead drink because the soda will go flat. 
If you tried this classic cocktail, let us know how it came out in the comments below!
Thank you for visiting Hooloo Distill. Don't forget to check out our
shop for any supplies or equipment you may need for any future distillations.
Encounter Hooloo, Enjoy distillation life.