News
Espresso Martini
by XuCharles on Jun 20, 2023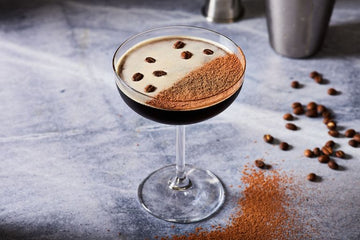 Background:
The Espresso Martini is a classic cocktail that combines the bold flavors of espresso coffee and vodka with a touch of sweetness. It originated in the 1980s and has since become a favorite among coffee and cocktail lovers alike. The rich and smooth texture, coupled with the intense coffee aroma, makes it a perfect after-dinner drink or a pick-me-up during social gatherings. Its sophisticated blend of flavors and enticing presentation make the Espresso Martini a popular choice for those seeking a unique and indulgent cocktail experience.
Ingredient:
1 1/2 ounces vodka
1 ounce coffee liqueur (such as Kahlua)
1 ounce freshly brewed espresso
1/2 ounce simple syrup (optional, for sweetness)
Ice cubes
Steps:
Fill a cocktail shaker with ice cubes.
Add vodka, coffee liqueur, espresso, and simple syrup (if desired) to the shaker.
Shake vigorously for about 15 seconds to chill the drink and create a frothy texture.
Strain the mixture into a chilled martini glass.
Garnish with a few coffee beans or a twist of orange peel, if desired.
Serve and enjoy your delicious Espresso Martini!
Conclusion:
You know what they say: It's always Happy Hour somewhere. Whether you're perfecting your favorite at-home cocktail, enjoying brunch with friends, or throwing the ultimate summer party, this recipe are here to give you all the insights you need. Cheers! Don't forget to check out our shop for any supplies or equipment you may need for any future distillations.Encounter Hooloo, Enjoy distillation life.