News
Frozen Paloma
by XuCharles on May 15, 2023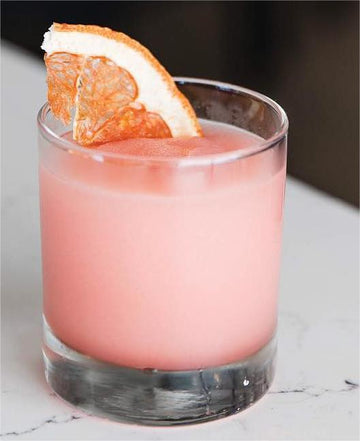 Background:


Frozen Paloma is a refreshing and citrusy twist on the classic Paloma cocktail. It features the tart and sweet flavors of grapefruit juice, balanced with the bright and zesty taste of lime. The frozen version of this cocktail adds a frosty and slushy texture that is perfect for sipping on a hot day. Whether you're lounging by the pool or enjoying a barbecue with friends, the Frozen Paloma is a delicious and festive way to beat the heat.
Ingredient:
Kosher salt and chili powder, for glasses
1 part fresh lime juice, plus 1 lime wedge
Ice
4 parts Altos Plata Tequila
4 parts ruby red grapefruit juice
2 parts light agave syrup
1/2 part pomegranate juice
2 ruby red grapefruit wedges
Steps:
Step 1On a small, shallow plate, combine chili powder and salt. Rub rims of 2 rocks glasses with lime wedge, then dip into chili powder mixture to coat. Fill glasses with ice.
Step 2In a blender, combine lime juice, Altos Plata Tequila, grapefruit juice, agave syrup, and pomegranate juice. Fill with ice and pulse on high speed until ice is crushed and drink is a slushie consistency, about 30 seconds.
Step 3Pour into prepared glasses. Garnish with grapefruit wedges.
Conclusion:
Cocktails are best enjoyed right after making and do not work as a make-ahead drink because the soda will go flat. 
If you tried this classic cocktail, let us know how it came out in the comments below!
Thank you for visiting Hooloo Distill. Don't forget to check out our
shop for any supplies or equipment you may need for any future distillations.
Encounter Hooloo, Enjoy distillation life.