News
Frozen Sangria Margarita
by XuCharles on May 25, 2023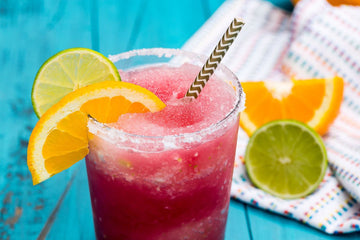 Background:
Experience the delightful fusion of sangria and margarita in the Frozen Sangria Margarita. This icy concoction combines the fruity notes of red wine, the tanginess of tequila, and the sweetness of orange liqueur. Sip on this refreshing blend and let the flavors transport you to a tropical oasis.

Ingredient:
FOR THE SANGRIA SWIRL
1 c. red wine
Juice of 1 orange
Juice of 1 lime
2 c. ice
FOR THE MARGARITA SWIRL
1 can frozen limeade concentrate
2 shots tequila
2 c. ice
Steps:
Blend sangria mixture. Transfer mixture to the freezer while you blend margarita mixture.
Rinse blender and blend margarita mixture.
On a small plate combine sugar and salt. Run a wedge of lime around the rim of a glass and dip in sugar and salt. Alternate layers of sangria and margarita.
Garnish with lime and serve.
Conclusion:
Cocktails are best enjoyed right after making and do not work as a make-ahead drink because the soda will go flat. 
If you tried this classic cocktail, let us know how it came out in the comments below!
Thank you for visiting Hooloo Distill. Don't forget to check out our
shop for any supplies or equipment you may need for any future distillations.
Encounter Hooloo, Enjoy distillation life.