News
How to Make The Godfather Cocktail
by XuCharles on Mar 04, 2023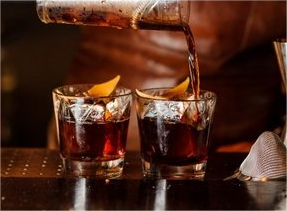 The Godfather cocktail is a classic drink that combines two iconic Italian spirits: whiskey and amaretto. It's a rich and flavorful cocktail that's perfect for sipping on a cozy night in or serving at a sophisticated gathering. In this article, we'll walk you through the step-by-step process of making a perfect Godfather cocktail.
Ingredients:

Quantity

whiskey

2 ounces

amaretto

1 ounce

Ice

moderate

Orange peel or cherry

for garnish (optional)
Directions:
Fill a cocktail shaker with ice.

Add 2 ounces of whiskey and 1 ounce of amaretto to the shaker.

Shake the shaker vigorously for about 15-20 seconds.

Strain the mixture into a chilled glass filled with ice.

Garnish with an orange peel or cherry if desired.
Tips:
Use a quality whiskey to ensure a smooth and delicious cocktail.
Be sure to shake the cocktail shaker vigorously to properly mix the ingredients.
You can also serve this cocktail neat (without ice) in a brandy snifter or rocks glass.
For a sweeter version of the Godfather, use equal parts whiskey and amaretto.
Variations:
The Godmother: Substitute whiskey with vodka for a slightly lighter flavor.
The Sicilian: Add a splash of lemon juice to the mixture for a tangy twist.
The Obituary: Add a splash of dry vermouth to the mixture for a drier, more complex flavor.
Conclusion:
The Godfather cocktail is a timeless classic that's easy to make and delicious to drink. With its blend of whiskey and amaretto, it's a sophisticated and satisfying choice for any occasion. So why not mix one up tonight and enjoy the rich, smooth flavors of this iconic Italian cocktail?
Thank you for visiting Hooloo Distill, your one-stop-shop for all of your distilling needs. Don't forget to check out our shop for any supplies or equipment you may need for any future distillations. 
Encounter Hooloo, Enjoy distillation life.
Let's know what you thought of this guide by leaving a comment.