News
Lemonade Mimosas
by XuCharles on Jun 12, 2023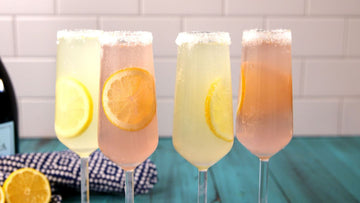 Background:
Lemonade Mimosas are a delightful twist on the classic mimosa cocktail, adding a refreshing and tangy twist to the traditional combination of champagne and orange juice. This vibrant and citrusy concoction is made by combining bubbly champagne with zesty lemonade, creating a perfect balance of sweet and tart flavors. Lemonade Mimosas are the ultimate brunch beverage, offering a light and refreshing drink option that pairs perfectly with a variety of breakfast and brunch dishes. Raise a glass and enjoy the lively and invigorating taste of Lemonade Mimosas.
Ingredient:
2 tsp. lemon zest
1/2 c. sugar
1 lemon, thinly sliced, plus a wedge for rimming
1 bottle champagne
2 c. lemonade or pink lemonade
Steps:
In a shallow dish, mix lemon zest and sugar.
Rim champagne flutes with a lemon wedge and dip in sugar mixture.
Place one slice of lemon inside each champagne flute, bending if needed.
Fill flute halfway with champagne and top with lemonade. Serve.
Conclusion:
You know what they say: It's always Happy Hour somewhere. Whether you're perfecting your favorite at-home cocktail, enjoying brunch with friends, or throwing the ultimate summer party, this recipe are here to give you all the insights you need. Cheers! Don't forget to check out our shop for any supplies or equipment you may need for any future distillations.Encounter Hooloo, Enjoy distillation life.