News
Perfect Cosmopolitan
by XuCharles on Apr 13, 2023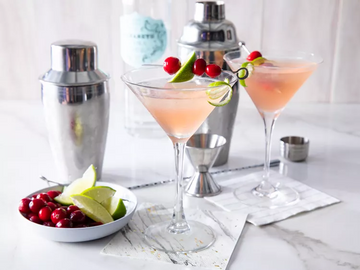 Background:
Cosmopolitans are more than just a pretty drink. This easy cocktail is tart and citrusy with a real punch. It's a classic for every at home bartender to know and easy enough to shake up for guests or to make just for yourself. If you are looking for more ways to use that Cointreau, try our grapefruit sidecar next! 
Ingredient:
4 oz. citrus vodka
2 oz. Cointreau
2 oz. cranberry juice
Juice of 1/2 lime
Ice
Lime wedge, for garnish
Cranberries, for garnish
Steps:
Step 1Add vodka, Cointreau, cranberry juice, and lime juice to a cocktail shaker and fill with ice. Shake until well chilled. 
Step 2Strain drink into a martini glasses and garnish with a lime wedge and cranberries.
Conclusion:
Have you tried these yet? Let us know how it went in the comments below! 
Thank you for visiting Hooloo Distill. Don't forget to check out our
shop for any supplies or equipment you may need for any future distillations.
Encounter Hooloo, Enjoy distillation life.