News
Piña Colada
by XuCharles on May 31, 2023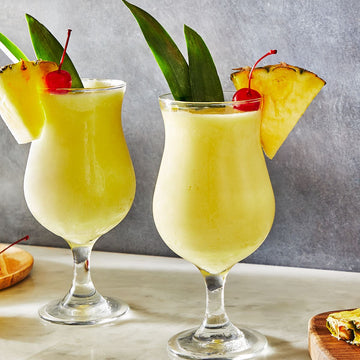 Background:
Pina Colada, a popular tropical cocktail, originated in Puerto Rico and has gained worldwide fame. It is a delightful blend of rum, coconut cream, and pineapple juice, creating a creamy and refreshing taste. The cocktail is often garnished with a pineapple wedge and cherry, evoking the essence of a tropical paradise. Whether sipped by the poolside or enjoyed at a beach bar, the Pina Colada is a beloved choice for those seeking a taste of the tropics in a glass.
Ingredient:
1 medium pineapple
6 oz. unsweetened coconut cream
3 oz. sweetened condensed milk
1 1/2 c. ice
6 oz. black or dark rum
3 oz. pineapple juice
Maraschino cherry, for serving
Steps:
Cut pineapple in half crosswise. Using a knife, remove skin from one half, then cut into quarters and remove core. Reserve remaining half that still has skin intact. Reserve leaves for garnish.
Finely chop pineapple flesh from peeled half into 1/2" pieces. Transfer 1 1/2 cups chopped pineapple to a freezer-safe bag and freeze until frozen, 2 to 3 hours.
In a glass measuring cup, whisk coconut cream and milk until smooth. Pour into an ice cube tray and freeze until completely firm, about 3 hours.
Meanwhile, cut reserved pineapple half into quarters. Slice one quarter into wedges for serving; reserve remaining pineapple for another use.
Transfer frozen pineapple and cream cubes to a blender. Add ice, rum, and pineapple juice. Blend until smooth.
Divide piña colada among glasses. Garnish with reserved leaves, a pineapple wedge, and a cherry.
Conclusion:
Cocktails are best enjoyed right after making and do not work as a make-ahead drink because the soda will go flat. 
If you tried this classic cocktail, let us know how it came out in the comments below!
Thank you for visiting Hooloo Distill. Don't forget to check out our
shop for any supplies or equipment you may need for any future distillations.
Encounter Hooloo, Enjoy distillation life.