News
Pineapple Moonshine
by XuCharles on Mar 01, 2023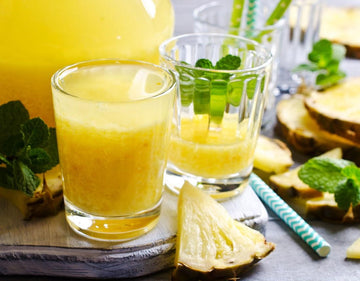 Are you looking to impress your friends with a unique and delicious drink? Consider making pineapple moonshine with the Hooloo Distiller! This versatile and reliable distiller is specifically designed for distilling all types of spirits and liquors, making it the perfect tool for any home distiller or small distillery.
To make pineapple moonshine with the Hooloo Distiller, you'll need fresh

pineapples, sugar, and water

. Start by cutting the pineapples into small pieces and adding them to a large pot with water and sugar. Bring the mixture to a boil and then let it simmer for about an hour, stirring occasionally.

Once the pineapple mixture has cooled to room temperature, transfer it to the Hooloo Distiller. Fill the distiller's boiler with the pineapple mixture and turn on the heat. As the mixture heats up, the alcohol will vaporize and then condense into a liquid form in the condenser, creating the pineapple wine.
One of the great features of the Hooloo Distiller is its stainless steel construction, which ensures durability and longevity. Additionally, the easy-to-read temperature gauge allows you to keep track of the temperature of the mixture as it boils, ensuring a high-quality final product.
But the Hooloo Distiller isn't just for making pineapple wine. It can also be used to distill other types of liquors, such as rum, gin, and even essential oils. And because it's portable and compact, making it the perfect addition to any home bar or small distillery.
In conclusion, the Hooloo Distiller is a versatile and reliable tool for anyone looking to make their own spirits at home. Whether you're making pineapple wine, rum, or gin, the Hooloo Distiller is the perfect choice for producing high-quality and delicious liquors. And with its durable construction and easy-to-use features, you can be sure that you'll be making great drinks for years to come.
Thank you for visiting

 

Hooloo Distill, your one-stop-shop for all of your distilling needs. Don't forget to check out our shop for any supplies or equipment you may need for any future distillations. 
 Encounter Hooloo, Enjoy distillation life.
 Let's know what you thought of this guide by leaving a comment.