News
screwdriver cocktail
by XuCharles on Apr 29, 2023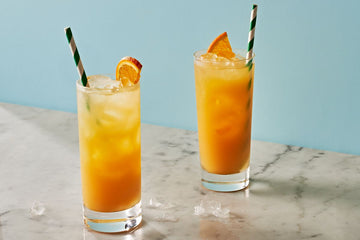 Background:

 
If you asked people what is the first "cocktail" they've ever had, they'd probably say it was a screwdriver. It's a stalwart of college parties and boozy brunches for its simplicity and accessibility.
We kept our approach pretty straightforward: just vodka, orange juice, and ice. The only thing we might insist on is that you use freshly squeezed OJ. This takes what is kind of a forgettable drink into a far more pleasant experience. You can even strain the pulp if you like that clean "from the bottle texture."
Ingredient:
2 oz of vodka
4 oz of orange juice
Ice cubes
Orange slice for garnish
Steps:
Fill a highball glass with ice.
Pour 2 oz of vodka into the glass.
Add 4 oz of orange juice.
Stir the mixture well.
Garnish with an orange slice.
Serve and enjoy your refreshing screwdriver cocktail!
Conclusion:
Cocktails are best enjoyed right after making and do not work as a make-ahead drink because the soda will go flat. 
If you tried this classic cocktail, let us know how it came out in the comments below!
Thank you for visiting Hooloo Distill. Don't forget to check out our
shop for any supplies or equipment you may need for any future distillations.
Encounter Hooloo, Enjoy distillation life.