News
Singapore Sling
by XuCharles on May 05, 2023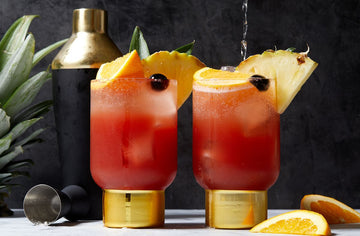 Background:

 
The Singapore Sling is a classic cocktail originating from Singapore in the early 20th century. It is a refreshing and fruity gin-based drink that has become a beloved classic around the world.
Ingredient:
Ice
1 1/2 oz. pineapple juice
1 oz. dry gin
1/2 oz. cherry liqueur
1/2 oz. triple sec or orange liqueur
1/4 oz. Bénédictine DOM or herbal liqueur
1/4 oz. grenadine
2 dashes aromatic bitters
Chilled club soda, for topping
1 wedge pineapple
1 slice orange
1 Luxardo maraschino cherry
Steps:
Step 1Fill a shaker with ice and add pineapple juice, gin, cherry liqueur, triple sec, Bénédictine, and grenadine. Vigorously shake until outside of shaker is frosty, about 20 seconds.
Step 2Strain into an ice-filled sling or collins glass. Top with club soda and garnish with pineapple, orange, and cherry.
Conclusion:
Cocktails are best enjoyed right after making and do not work as a make-ahead drink because the soda will go flat. 
If you tried this classic cocktail, let us know how it came out in the comments below!
Thank you for visiting Hooloo Distill. Don't forget to check out our
shop for any supplies or equipment you may need for any future distillations.
Encounter Hooloo, Enjoy distillation life.