News
Skinny Margarita
by XuCharles on May 23, 2023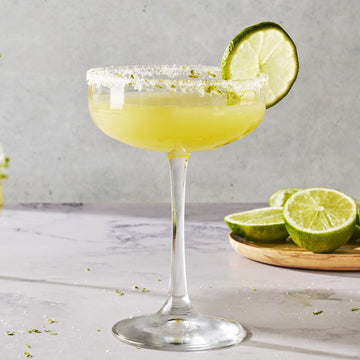 Background:

Enjoy the refreshing simplicity of Skinny Margaritas, a lighter take on the classic cocktail. Crafted with fresh lime juice, premium tequila, and a touch of sweetness, it's a guilt-free indulgence. Served over ice, it's the perfect blend of tangy and smooth. Cheers to the lighter side of Margaritas!
Ingredient:
Kosher salt
Zest of 1 lime
1 lime wedge 
Ice
1 1/2 oz. blanco tequila
1 oz. fresh lime juice
1 oz. fresh orange juice
1 tsp. agave syrup
Lime wheel, for serving
Steps:
Step 1Pour salt onto a small plate. Stir in lime zest. Using lime wedge, rub rim of a rocks or margarita glass. Dip rim into lime salt. 
Step 2In a cocktail shaker, place 2 ice cubes. Add tequila, lime juice, orange juice, and agave. Cover and vigorously shake until outside of shaker is very frosty, about 20 seconds.
Step 3Strain into prepared glass. Garnish with lime wheel.
Conclusion:
Cocktails are best enjoyed right after making and do not work as a make-ahead drink because the soda will go flat. 
If you tried this classic cocktail, let us know how it came out in the comments below!
Thank you for visiting Hooloo Distill. Don't forget to check out our
shop for any supplies or equipment you may need for any future distillations.
Encounter Hooloo, Enjoy distillation life.