News
Spicy Jalapeño Margaritas
by XuCharles on May 06, 2023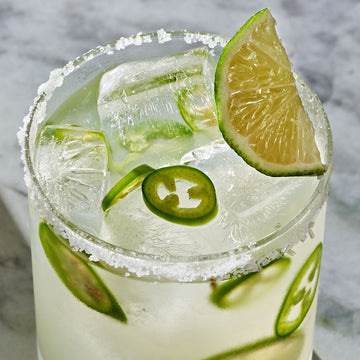 Background:

 
Spicy Jalapeño Margaritas are a twist on the classic Margarita cocktail, adding a kick of heat with the addition of fresh jalapeño peppers. The combination of spicy and tangy flavors creates a unique and refreshing drink that is perfect for summertime sipping. Whether enjoyed on the beach or at a backyard barbecue, these margaritas are sure to add a bit of spice to any occasion. 
Ingredient:
JALAPEÑO TEQUILA
2 c. tequila blanco
1 jalapeño, quartered 
1 medium cucumber, cut into 1/2" slices
MARGARITA
1 tsp. granulated sugar
1 tsp. kosher salt
Lime wedges, for glass and garnish
2 oz. infused tequila
1 oz. orange liqueur (such as Cointreau)
3/4 oz. fresh lime juice
Sliced jalapeño, for garnish
Steps:
JALAPEÑO TEQUILA
Step 1In a large clean jar, combine tequila and jalapeño. Using handle of a wooden spoon, gently muddle jalapeño. Add cucumber and seal jar. 
Step 2Store in a cool, dark place at least 8 hours or up to 12. Strain tequila mixture, discard solids, and pour back into jar. Refrigerate until ready to use.
Step 3

Make Ahead:

Tequila can be made 2 weeks ahead. Keep chilled.
MARGARITA
Step 1In a small shallow bowl, combine granulated sugar and salt. Run a lime wedge around rim of a rocks glass and dip into sugar mixture to coat.
Step 2In a cocktail shaker, combine infused tequila, orange liqueur, and lime juice. Fill shaker with ice and vigorously shake until outside of shaker is very cold, about 30 seconds. Strain into prepared ice-filled glass and garnish with a lime wedge and jalapeño slices.
Conclusion:
Cocktails are best enjoyed right after making and do not work as a make-ahead drink because the soda will go flat. 
If you tried this classic cocktail, let us know how it came out in the comments below!
Thank you for visiting Hooloo Distill. Don't forget to check out our
shop for any supplies or equipment you may need for any future distillations.
Encounter Hooloo, Enjoy distillation life.