News
Tequila Sunset
by XuCharles on May 12, 2023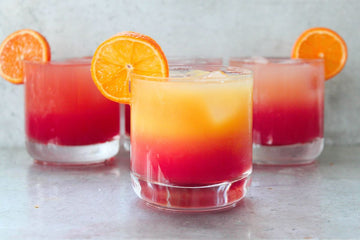 Background:
Tequila Sunset is a refreshing cocktail that embodies the vibrant and colorful spirit of the American Southwest. This drink features tequila, orange juice, and grenadine, creating a beautiful gradient of colors that evokes the stunning sunsets of the desert landscape. The combination of sweet and tangy flavors makes it a perfect drink for warm summer evenings or beach vacations. The Tequila Sunset has become a popular classic cocktail that is enjoyed by both tequila lovers and cocktail enthusiasts alike.
Ingredient:
1 c. ice
1 1/2 oz. tequila
4 oz. orange or grapefruit juice
1/2 oz. grenadine
Maraschino cherry or mandarin, for garnish
Steps:
Step 1 Fill serving glass with ice, tequila and juice.
Step 2 Add grenadine, garnish with cherry or mandarin and serve.
Conclusion:
Cocktails are best enjoyed right after making and do not work as a make-ahead drink because the soda will go flat. 
If you tried this classic cocktail, let us know how it came out in the comments below!
Thank you for visiting Hooloo Distill. Don't forget to check out our
shop for any supplies or equipment you may need for any future distillations.
Encounter Hooloo, Enjoy distillation life.