News
Tom Collins
by XuCharles on Apr 11, 2023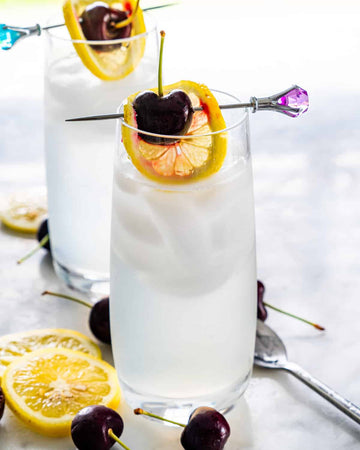 Background:
What's not to love about a simple, classic cocktail like the Tom Collins? It's basically a spiked and sparkling lemonade, served in a Collins glass, obviously, which immediately inducts it into the summer cocktail hall of fame.
Ingredient:
Ice  
2 oz. London Dry gin
1 oz. fresh lemon juice
1 oz. simple syrup  
3 oz. plain or lemon seltzer water
2 cocktail cherries
Sliced lemon, for serving
Steps:
Step 1Fill a cocktail shaker with ice. Add gin, lemon juice, and simple syrup and vigorously shake until outside of shaker is frosty, about 20 seconds.
Step 2Pour into an ice-filled Collins glass. Top off with seltzer water. Garnish with cherries and a lemon slice.
Conclusion:
It's a simple, refreshing, citrusy cocktail. A double that doesn't taste like a double. A "be careful or you won't be able to stand up" type of drink. Practically chuggable with the way that lemon masks the intensity of the gin. If I can offer any sound advice: less ice, more soda. Stretch it out!
Made this? Let us know what you thought in the comments below!
Thank you for visiting Hooloo Distill. Don't forget to check out our
shop for any supplies or equipment you may need for any future distillations.
Encounter Hooloo, Enjoy distillation life.