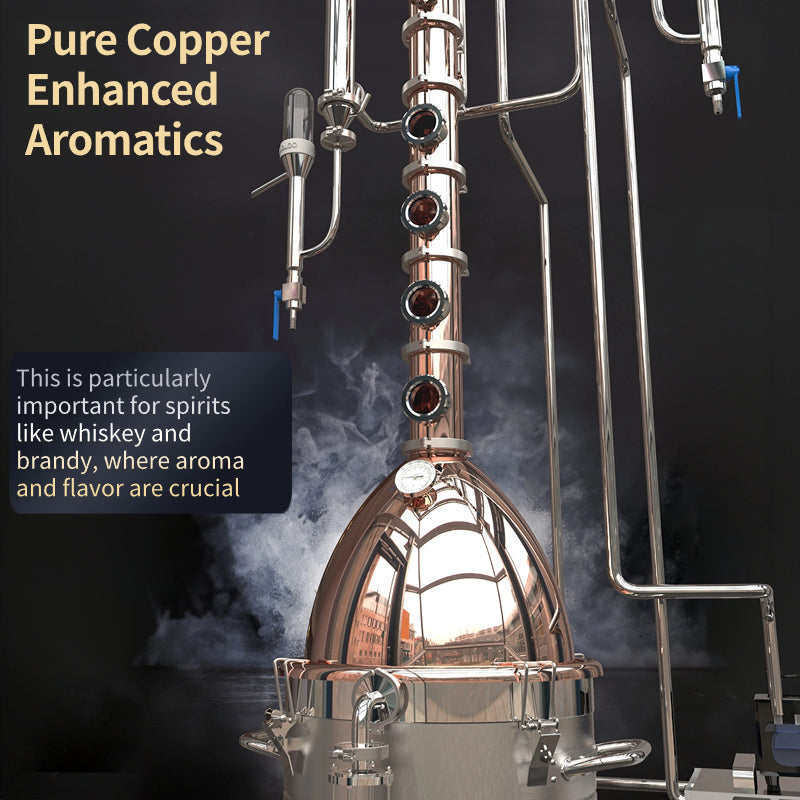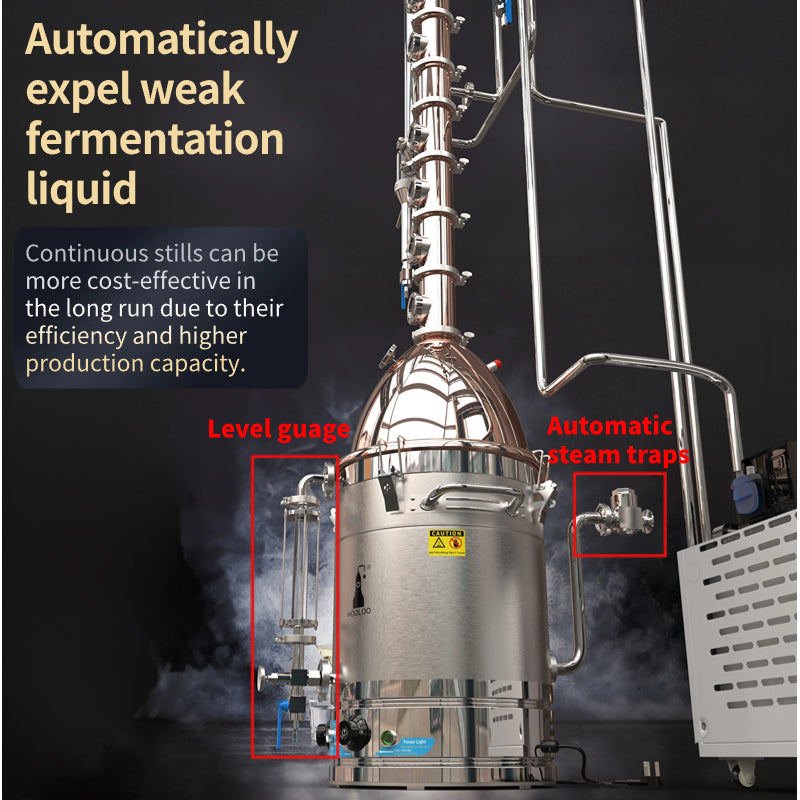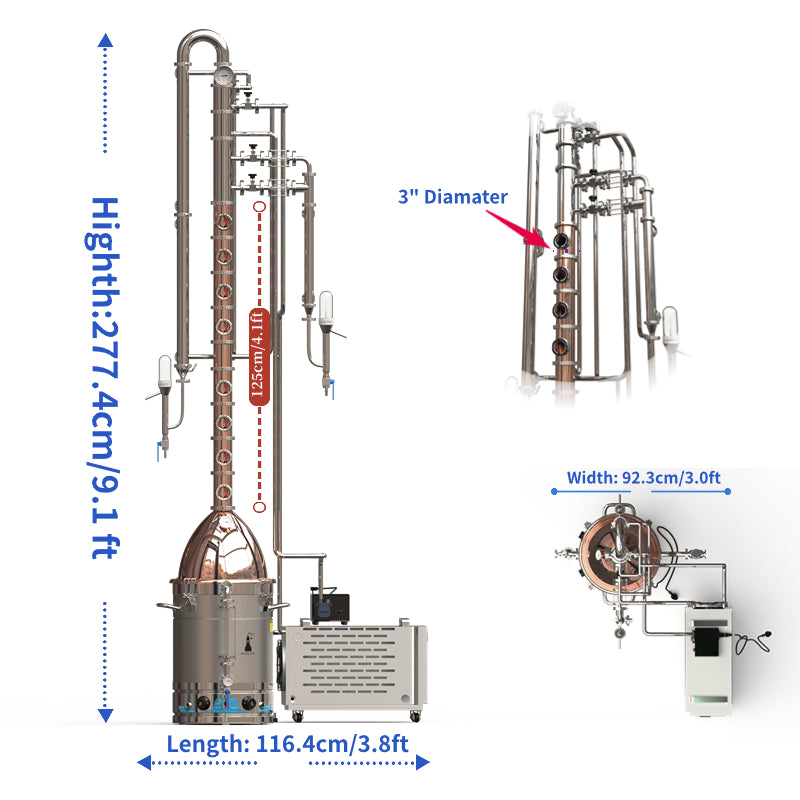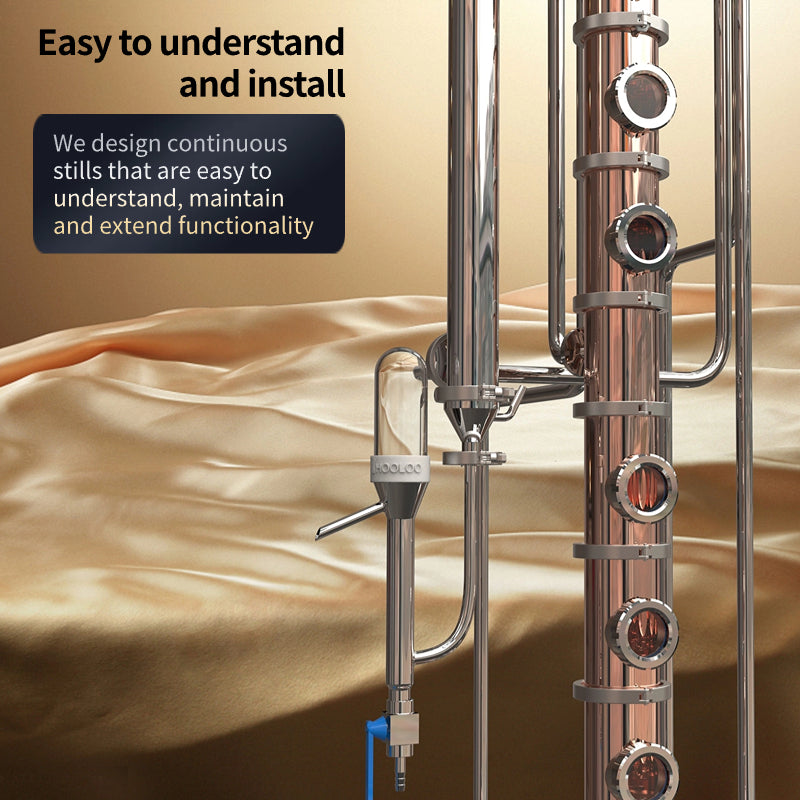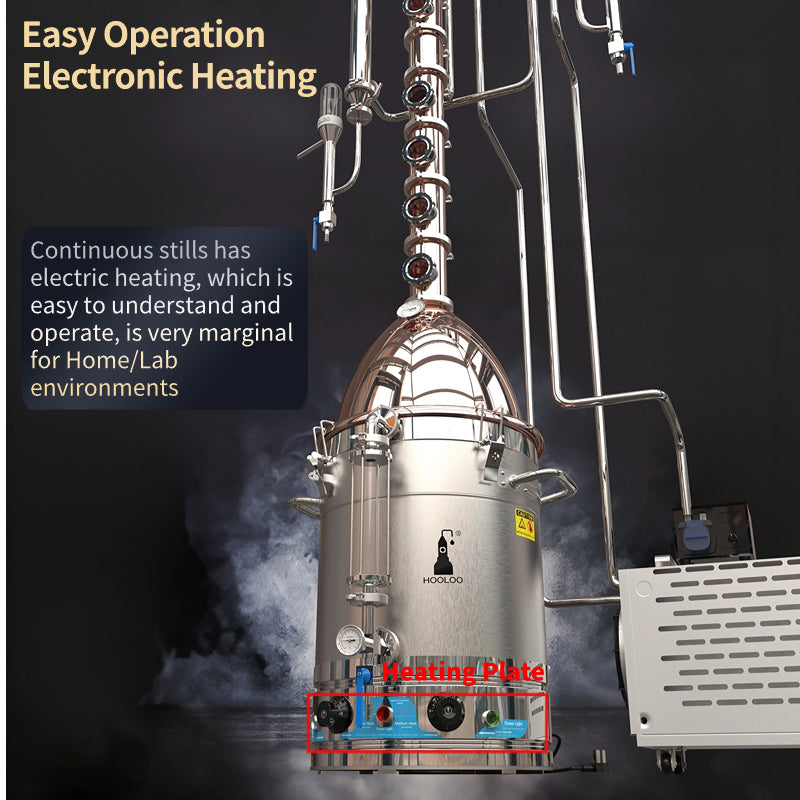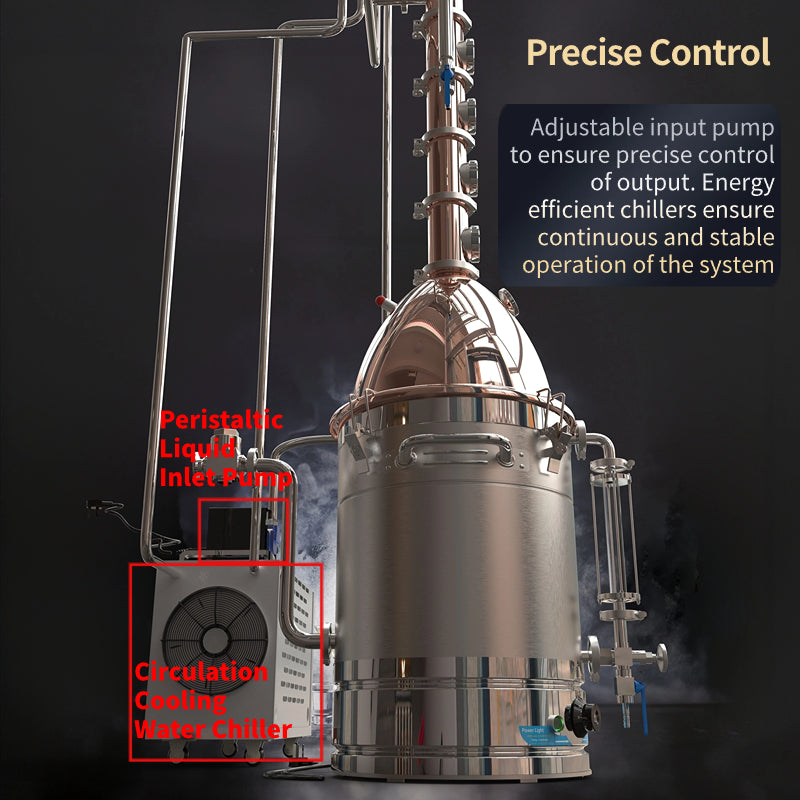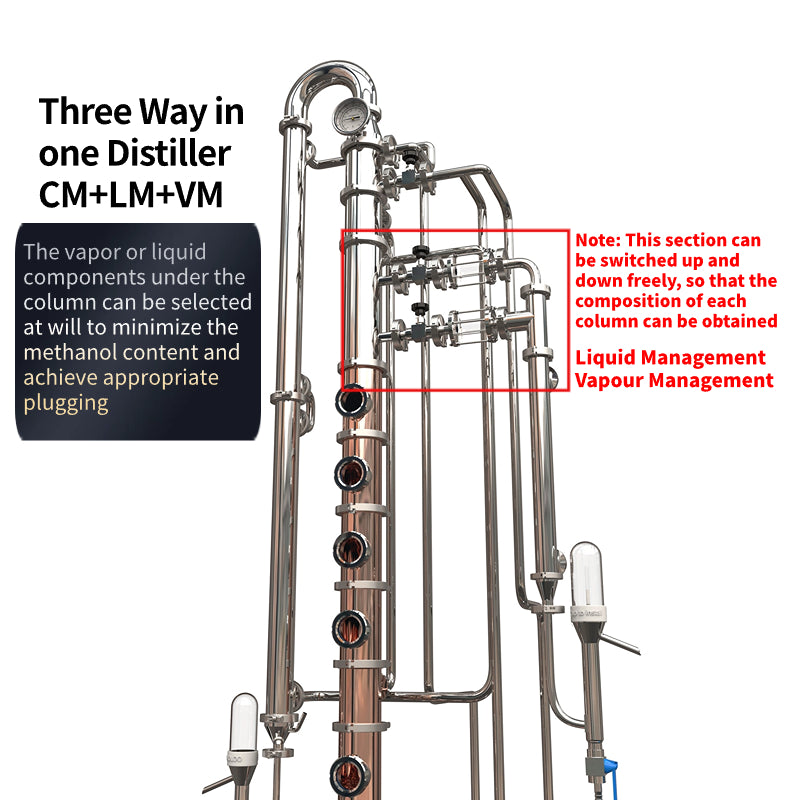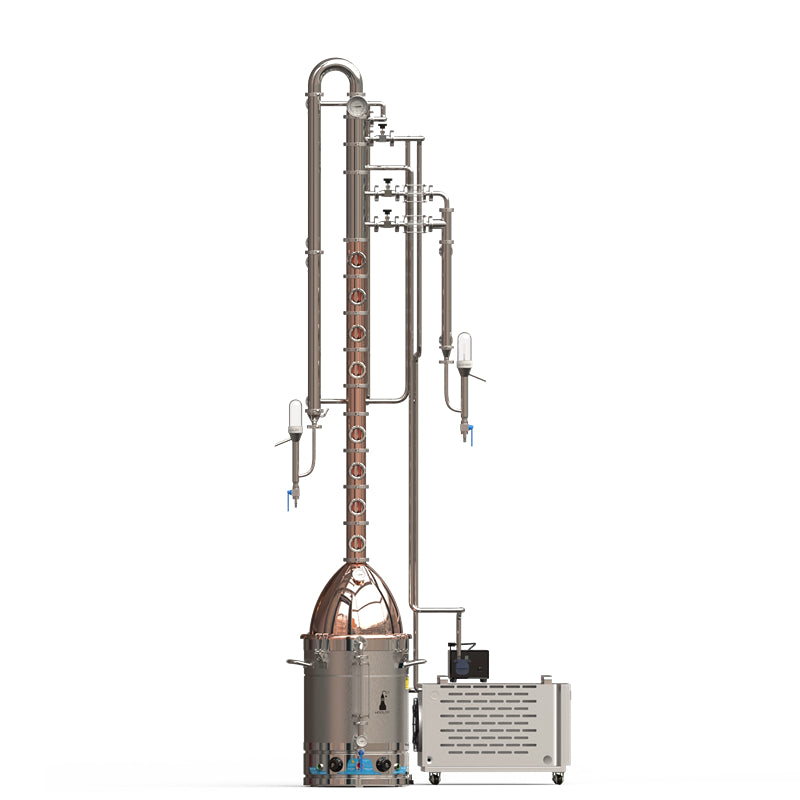 Home/Lab Copper Continuous Distiller
Regular price
$5,999.00 USD
Sale price
$5,999.00 USD
Regular price
Product description
Shipping & Return
The price marked on the page is FOB (Freight Port of Destination).
The product requires a production cycle, which generally takes 4-7 weeks (may need to be scheduled).
This product supports customization. If you have any other requirements or specific price inquiries, you can ask the store customer service or email charles@hooloodistill.com.
HOOLOO Continuous Distiller

HOOLOO RST65 ontinuous distiller,

suitable for home and small workshops,

unique copper rocket lid process and pure

copper column, this design can make the

steam stay longer, circulate the steam, and

the catalytic effect is stronger. Continuous

distillers have the ability to operate

continuously, continuously separating the

components of a mixture without

interrupting production. A large amount of

copper is combined with sulfide to eliminate sulfide in spirits, quickly remove methanol/formaldehyde, and accurately

remove fusel oil. It is emphatically

recommended for the distillation of

vodka,brandy, whiskey other than single

malt, rum, etc.




Encounter Hooloo and enjoy distilling!

High-quality spirits

Easy to Operate

Durable & Tight Seal

Versatile Application
Note:
1, After receiving and installing it, please make a distillation of distilled water. This operation is used for product sterilization and testing, and is also for familiarity with machine operation.
2, Please clean and dry the distiller after using.
3, Please allow 1-3cm error due to manual measurement. Please make sure you do not mind before you bid.
Key Features
Copper Rocket Lid and Column

The Copper Rocket Lid and Columns are vital components known for their exceptional heat conductivity. They play a crucial role in precise temperature control during distillation, ensuring accurate separation and purification of liquids. In summary, these components enhance distillation quality and precision.This is particularly important for spirits like whiskey and brandy, where aroma and flavor are crucial.

Automatically remove weak ferment

"Automatically expel weak fermentation liquid" is a feature that enhances distillation processes by efficiently separating undesirable components from the stronger alcohol content. This automation leads to higher alcohol purity, increased efficiency, consistent product quality, improved yield, and reduced operator involvement, ultimately resulting in high-quality spirits and streamlined production.

Easy Operation Electronic Heating

Electric heating in RST65 continuous still. With a total power output of 3400W and dual control knobs on the left (low heat) and right (medium heat), the system is designed to be user-friendly and easy to use, making it ideal for home and laboratory environments. This setup allows you to easily adjust the heat output with the turn of a knob, giving you precise control over the distillation process.
Precise Control

The RST65 continuous distiller offers exceptional "Precise Control" through an adjustable input pump, enabling precise output regulation to meet your specific needs accurately. Additionally, it features energy-efficient chillers that ensure continuous, stable, and environmentally friendly operation by efficiently maintaining optimal temperatures while minimizing energy consumption, resulting in a cost-effective distillation process.

Easy to understand and install

Our continuous stills are designed with international quick-connect interface, ensuring they are user-friendly, straightforward to install, and easy to comprehend. These features contribute to a hassle-free experience for users, making the distillation process accessible to a broader audience. Additionally, our continuous stills are designed for easy maintenance and the possibility of future functionality extensions.

Three-in-One CM, LM, and VM

The Three Way in One Distiller, equipped with CM (Column Management), LM (Liquid Management), and VM (Vapor Management) capabilities, offers exceptional versatility in distillation. This innovative system allows users to selectively choose between vapor or liquid components within the column as needed. This flexibility enables precise control over the distillation process, helping to minimize methanol content and prevent unwanted plugging issues.
Specifications

Name: RST65 Continuous Distiller

Heating: Electric Heating

Capacity: 65L

Working Capacity: 56L

Voltage: 110V or 220V

Size: 116.4×92.3×277.4cm

Weight: 100kg

Free gift

1 x Cooling pipe

1 x Globe valve

1 x Water fitting

1 x Sponge wipe

1 x Spare sealing ring

1 x Silicon tubeX0.5 meter