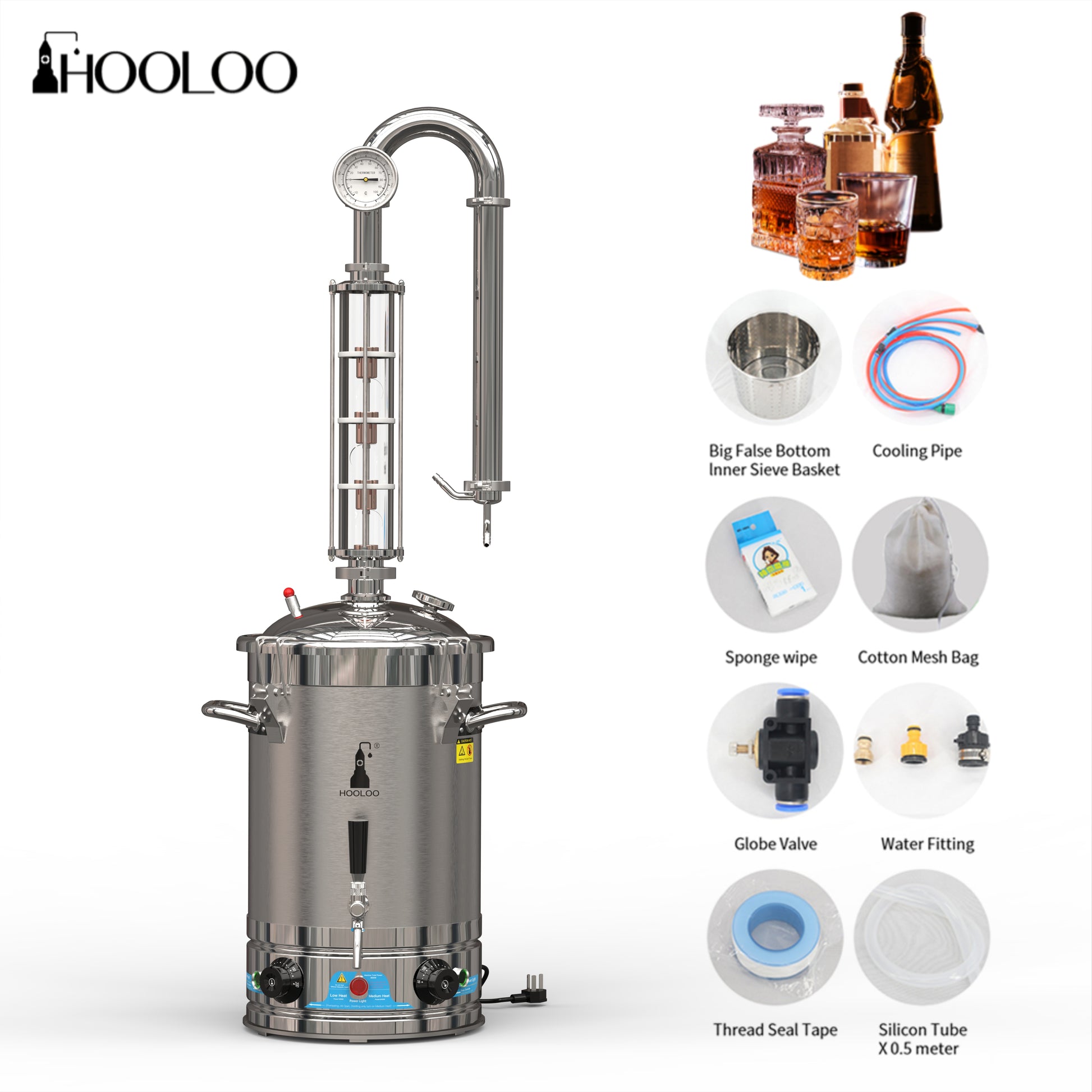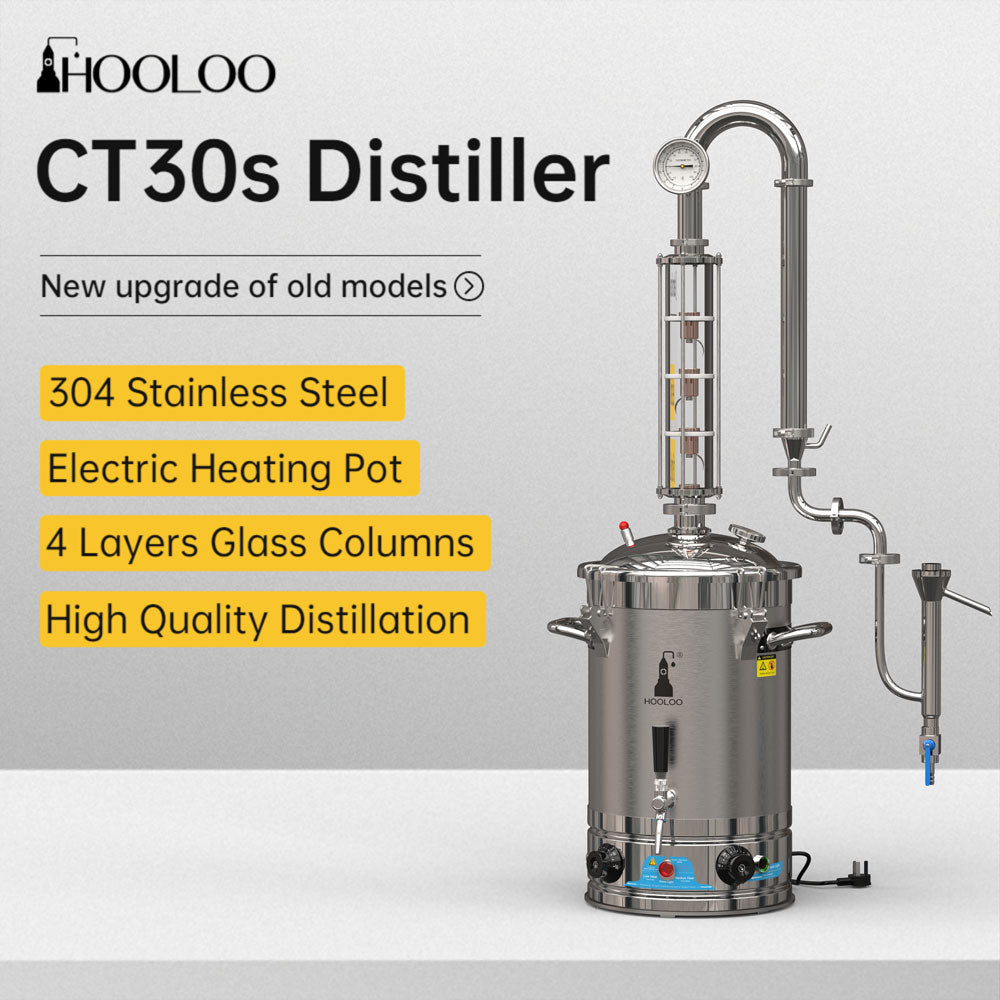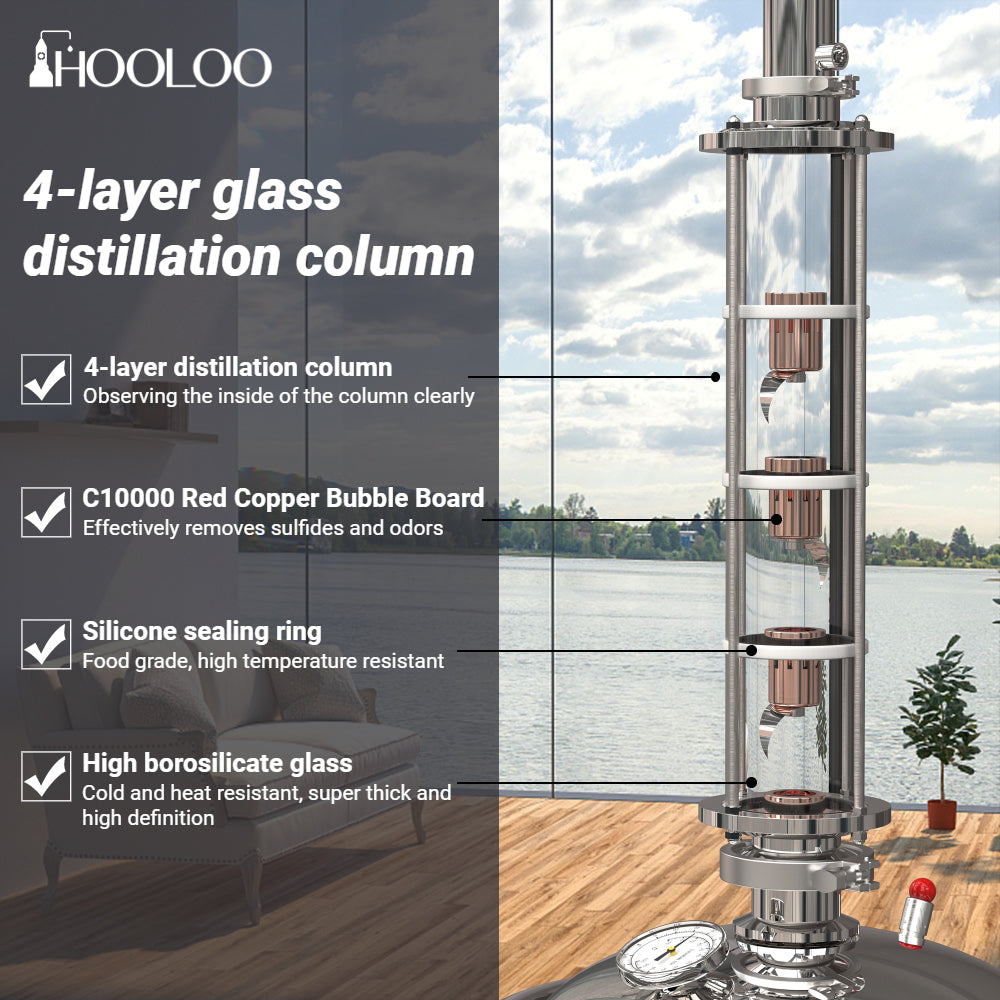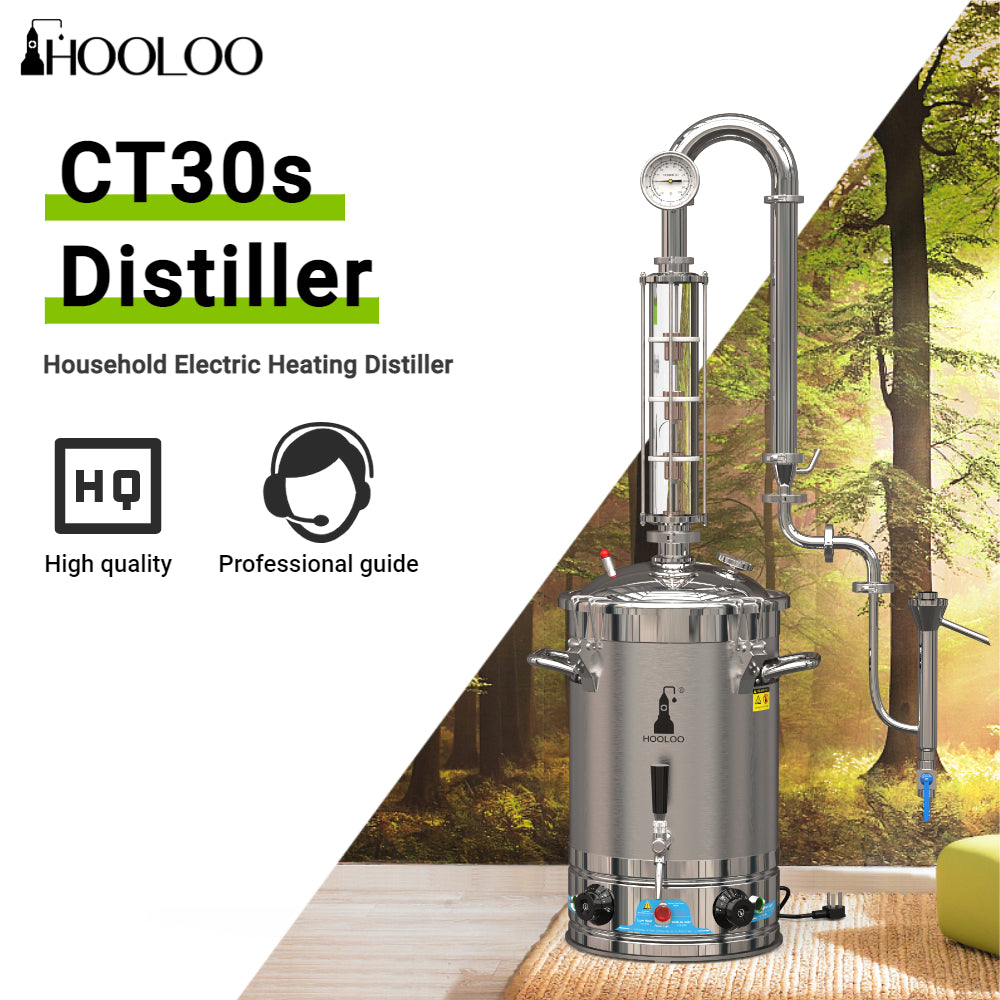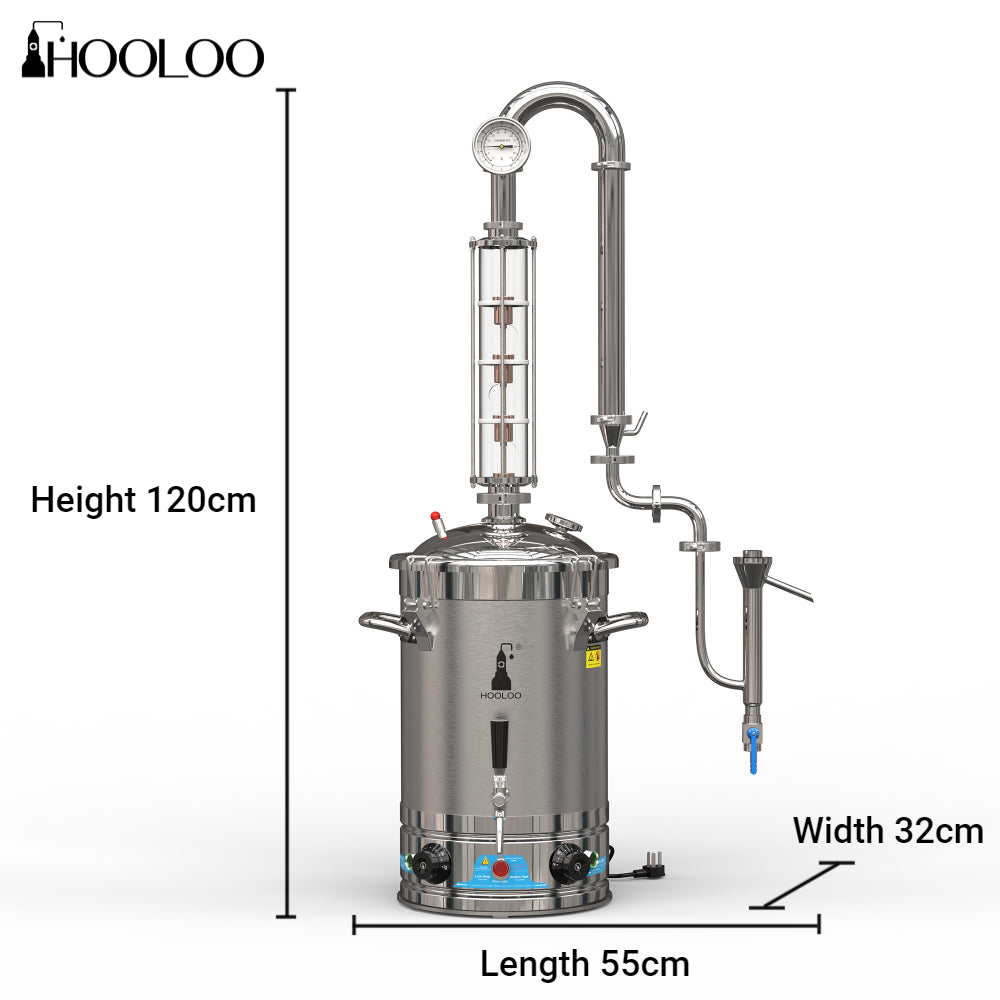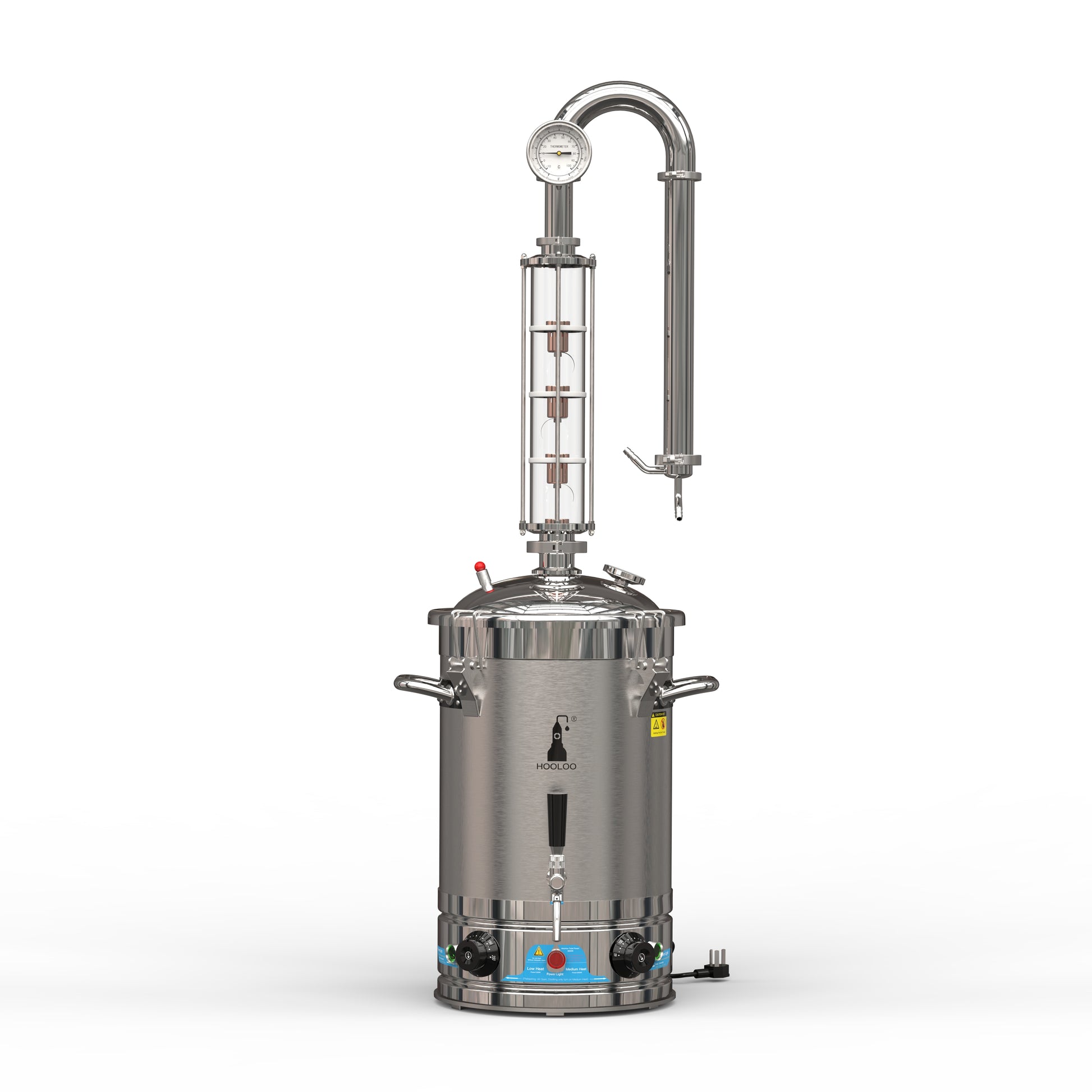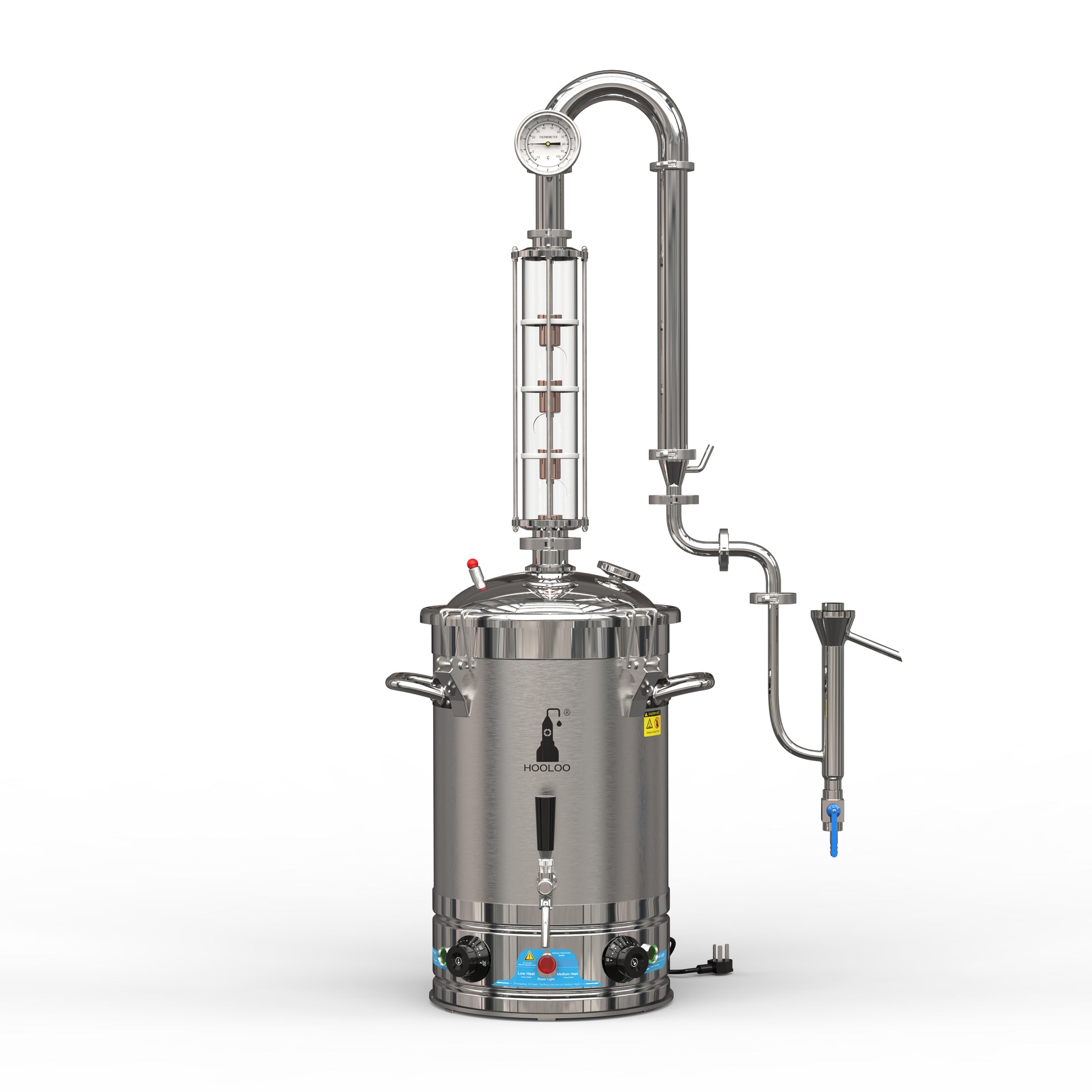 HOOLOO CT30s/CT30sP Distiller
Regular price
$845.00 USD
Sale price
$845.00 USD
Regular price
Product description
Shipping & Return
HOOLOO CT30s Distiller
HOOLOO CT30s Distiller,suitable for home use and small workshops, unique glass tower structure, multi-layer distillation.Self-contained electric heating is controlled by a knob,Pure Copper Crystal,Complete Distillation,Exquisite Brewing Equipment.can be used for gin, whiskey, brandy, vodka, rum and hydrosol and essential oil production.
Encounter Hooloo and enjoy distilling!
High-quality spirits
Easy to Operate
Durable & Tight Seal
Versatile Application
Note:
1, After receiving and installing it, please make a distillation of distilled water. This operation is used for product sterilization and testing, and is also for familiarity with machine operation.
2, Please clean and dry the distiller after using.
3, Please allow 1-3cm error due to manual measurement. Please make sure you do not mind before you bid.
Key Features
Electric heating paste pot
The HOOLOO CT30s features an upgraded electric heating anti-stick pot body that is designed to prevent the ingredients from sticking to the pot during the distillation process. This ensures the quality and purity of the final product and makes the cleaning process much easier. The electric heating also provides more precise temperature control during the distillation process, resulting in a high-quality and consistent end product.
Large 30L Capacity
The HOOLOO CT30s has a large capacity of 30L, making it suitable for both commercial and home use. With a larger capacity, it allows for a more efficient distillation process and can produce a larger quantity of high-quality distilled products. This makes it a great investment for those who want to produce high-quality distilled products in larger quantities.
High-Quality 304 Stainless Steel
The HOOLOO CT30s is constructed with high-quality 304 stainless steel, which is known for its corrosion resistance, durability, and ease of cleaning. The stainless steel body also ensures that the final product is of the highest quality, free of any unwanted flavors or impurities. The 304 stainless steel body also provides an attractive and professional appearance that is suitable for commercial use.
4-Layer Crystal Glass Column
The HOOLOO CT30s comes equipped with a 4-layer crystal glass distillation column that allows for precise and efficient distillation. Each layer features an internal copper core and bubble plate for even heat distribution, ensuring the highest quality of the final product. The crystal glass column also provides a visually appealing aspect to the distillation process and allows you to monitor the distillation process in real-time.
Precise Temperature Control
The HOOLOO CT30s features precise temperature control, which allows you to monitor and adjust the temperature during the distillation process. This ensures that the ingredients are distilled at the optimal temperature, producing a high-quality final product. The precise temperature control also allows for greater control over the distillation process, resulting in consistent and high-quality end products.
Versatile Applications
The HOOLOO CT30s are versatile and can be used in a variety of applications including distilled water, alcohol and various spirits. This versatility makes it an ideal investment for those looking to produce high-quality distilled products for personal or commercial use. Versatility also makes it suitable for a wide range of industries including beverage, spirits, industrial, medical and laboratory environments.
Specifications
Name: СТ30s Distiller

Country of Origin: China

Material: Crystal glass +C10000 Red copper + 304 Stainless steel

Capacity: 30L

Size: 55×32×120cm

Pot diameter: 31cm

Heating: Electric heating

Free gift

1 x Sieve Basket

1 x Cooling Pipe

1 x Globe Valve

1 x Water Fitting

1 x Sponge wipe

1 x Cotton Mesh Bag

1 x Spare Sealing Ring

1 x Silicon TubeX0.5 meter
Product real shot