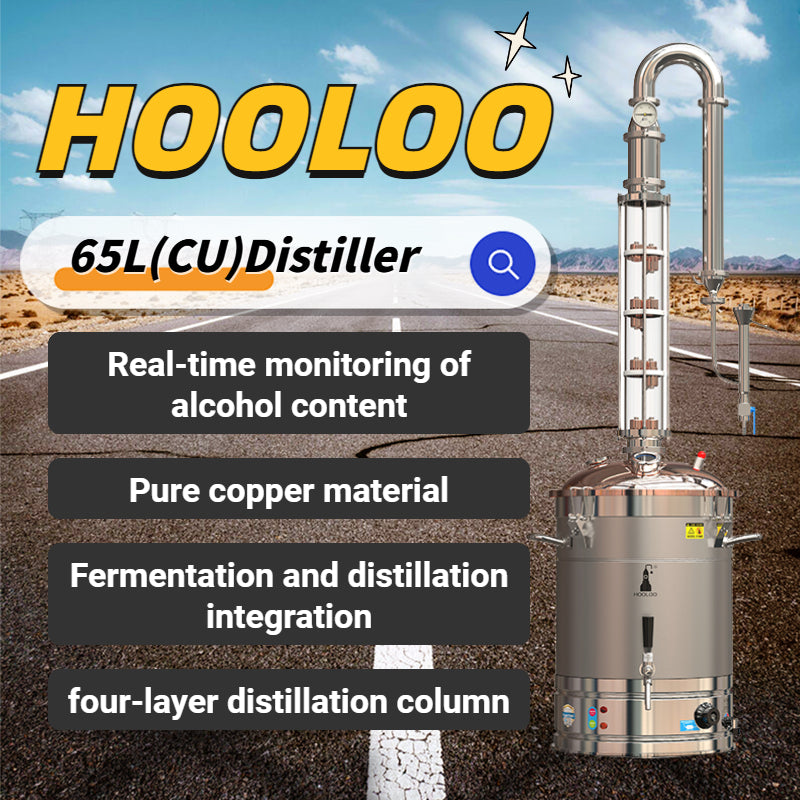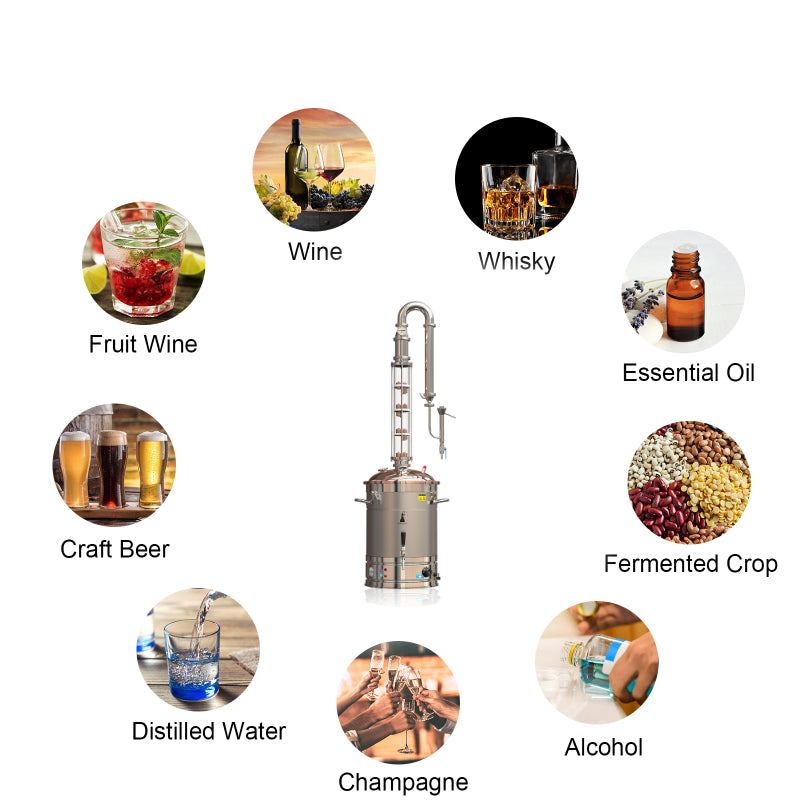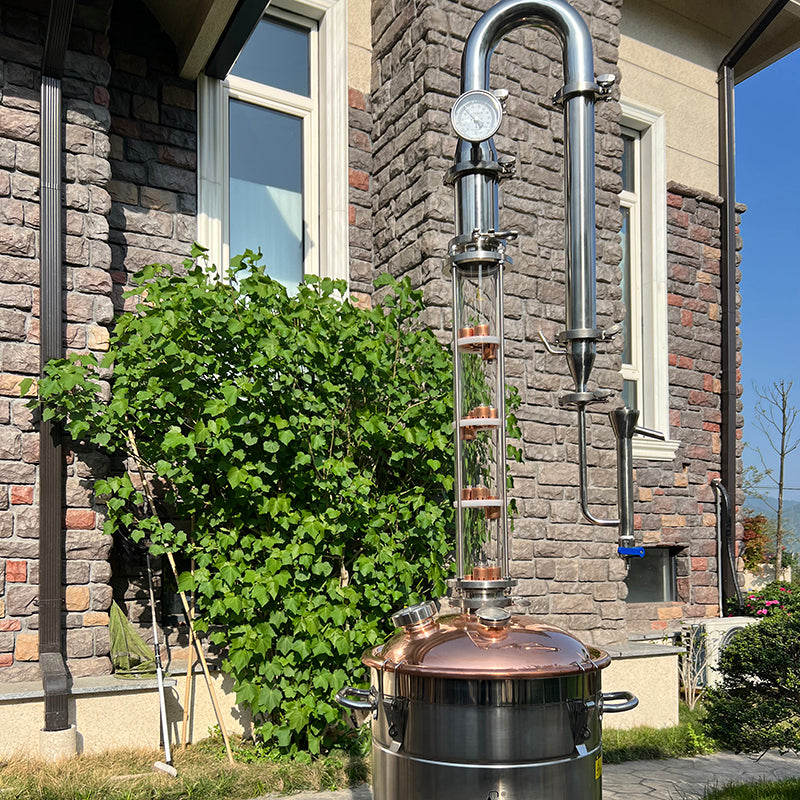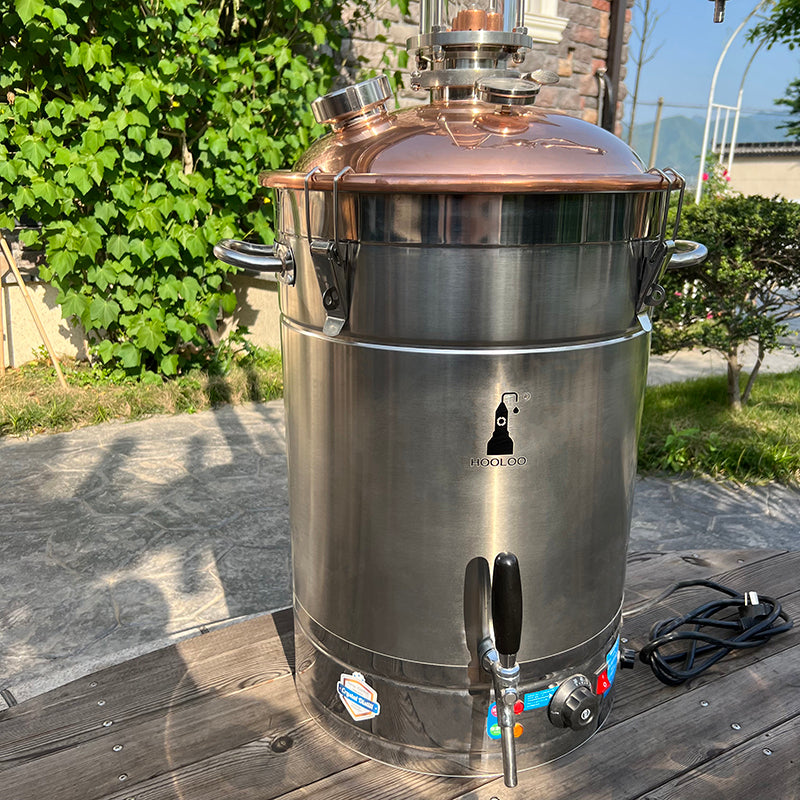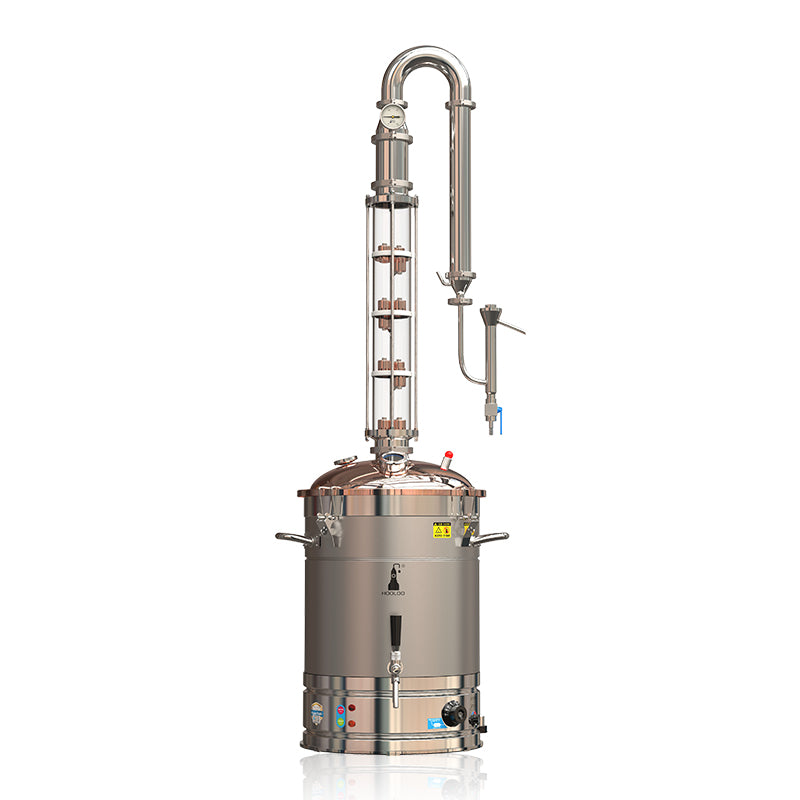 65L Glass Column Copper Cover Distiller(CT65Cu)
Regular price
$1,480.00 USD
Sale price
$1,480.00 USD
Regular price
Product description
Shipping & Return
PRODUCT DESCRIPTION
HOOLOO CT65(CU) Distiller,suitable for home use and small workshops, unique glass tower structure, multi-layer distillation, can be used for gin, whiskey, brandy, vodka, rum and hydrosol and essential oil production, suitable for gas stoves, firewood, electric ceramic stoves, induction cookers and other heating methods.
Honeycomb style super fast cooling
COMPANY PROFILE
The company created its own "HOOLOO" brand, registered the US trademark of the HOOLOO brand, and passed ISO9001, ISO14001, CE, FCC certification. At present, it mainly produces and assembles small and medium-sized distillation equipment (including brewing equipment, pure dew essential oil equipment, etc.). The company's team has strong product research and development capabilities and professional service capabilities. New products are launched irregularly every month. Many products have design patents and invention patents.
The company's products are mainly for three types of customers: domestic and foreign brewing users, pure dew essential oil lovers, and disinfectant alcohol producers.
Why Choose HOOLOO?
Premium Tough Quality

Incredibly Low Prices

Fast & Secure Delivery

24/7 Attentive Service
Note: ​1, After receiving and installing it, please make a distillation of distilled water. This operation is used for product sterilization and testing, and is also for familiarity with machine operation.
2, Please clean and dry the distiller after using.
​3, Please allow 1-3cm error due to manual measurement. Please make sure you do not mind before you bid.
Key Features


Can monitor alcohol content
No need to take liquid measurement, the glass tower still can see the real-time alcohol content to help you easily take the spirit of the spirit.
Pure copper material
Pure copper has the function of penetrating purification. The copper cover and column are made of 99.95% pure copper, which is convenient for high-temperature sterilization, cleaning to prevent the generation of patina, and safer to use.
Fermentation Distillation Integration
It has its own temperature control, fermentation function, and one machine for distillation and fermentation to support household and small commercial use. The fermentation is completed efficiently, and the fermentation temperature is kept at 30°C.
360° Free Adjustment
All parts can be freely placed and adjusted to the suitable position you like.
Multipurpose Usage
Our stills can be used in different occasions, for the production of gin, whiskey, brandy, vodka, rum and hydrosol and essential oils, suitable for heating methods such as gas stoves, wood fires, electric ceramic stoves, induction cookers, etc.
Four-layer rectification column
1 distillation > 3 simple distillations, advanced technology, introduction of advanced technology, repeated distillation, layer-by-layer screening, and high-quality spirits. It adopts pure copper tower core and tower, high borosilicate cold and heat resistant glass, and stainless steel support column.
HOOLOO CT65(CU)
65L Distiller
Name: CT 65L(CU)

Material: 304L Stainless Steel and 99.95%CU Pure Copper

Capacity: 65L

Testing and certification: ISO9001/ISO14001/FCC/CE

Specification:500x560x1720mm

Net weight:12.5KG

Voltage:220-240V

Power:Maximum power 2800W

Way to heat up:Self-contained electric heating
Package Content
1 x Main body

1 x Pure copper cover (including electronic temperature gauge and pressure control valve)

1 x 4-layer glass distillation column

1 x Cooling pipe (red) outlet pipe (blue) 2 meters each

1 x Water accessories

1 x Premium water basket

1 x Stainless Steel Parrot

1 x Alcohol meter

1 x Exquisite Gloves

1 x Instruction Manual

1 x Spare sealing ring

1 x 50*60 Cotton Net

1 x Magic sponge