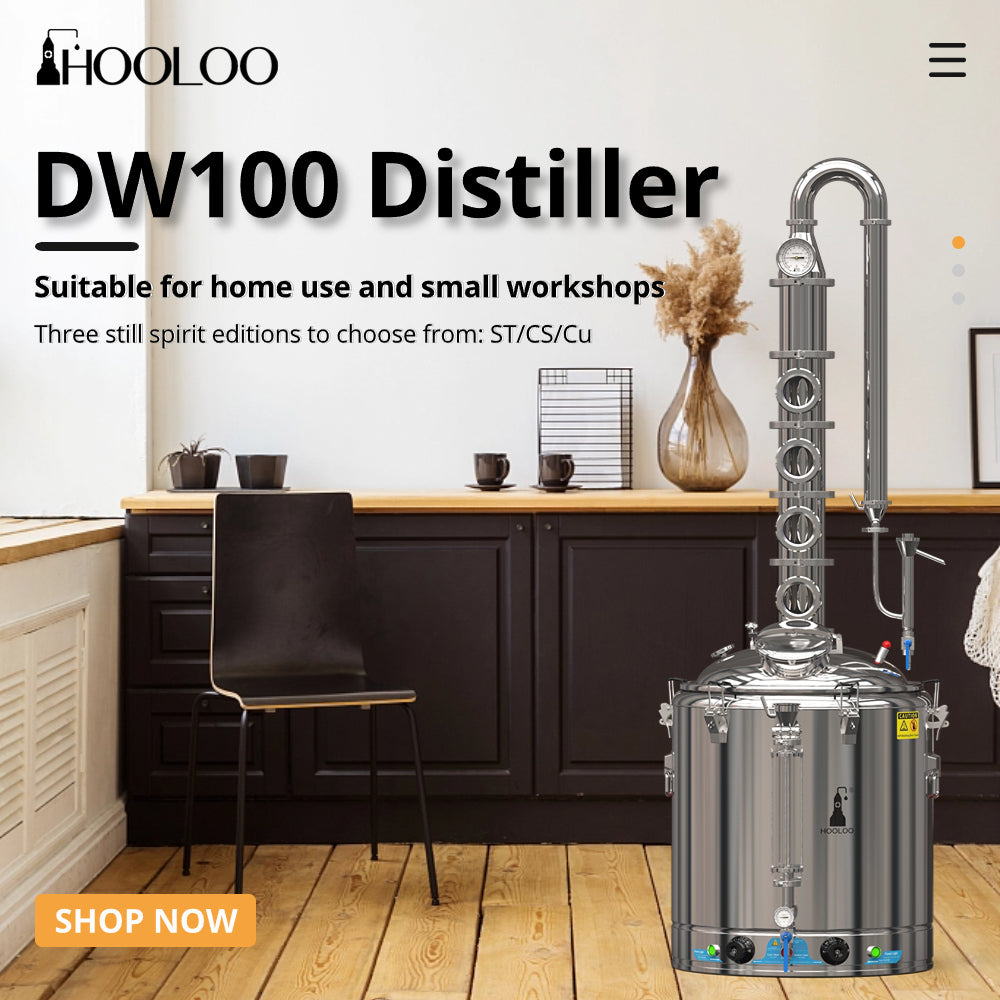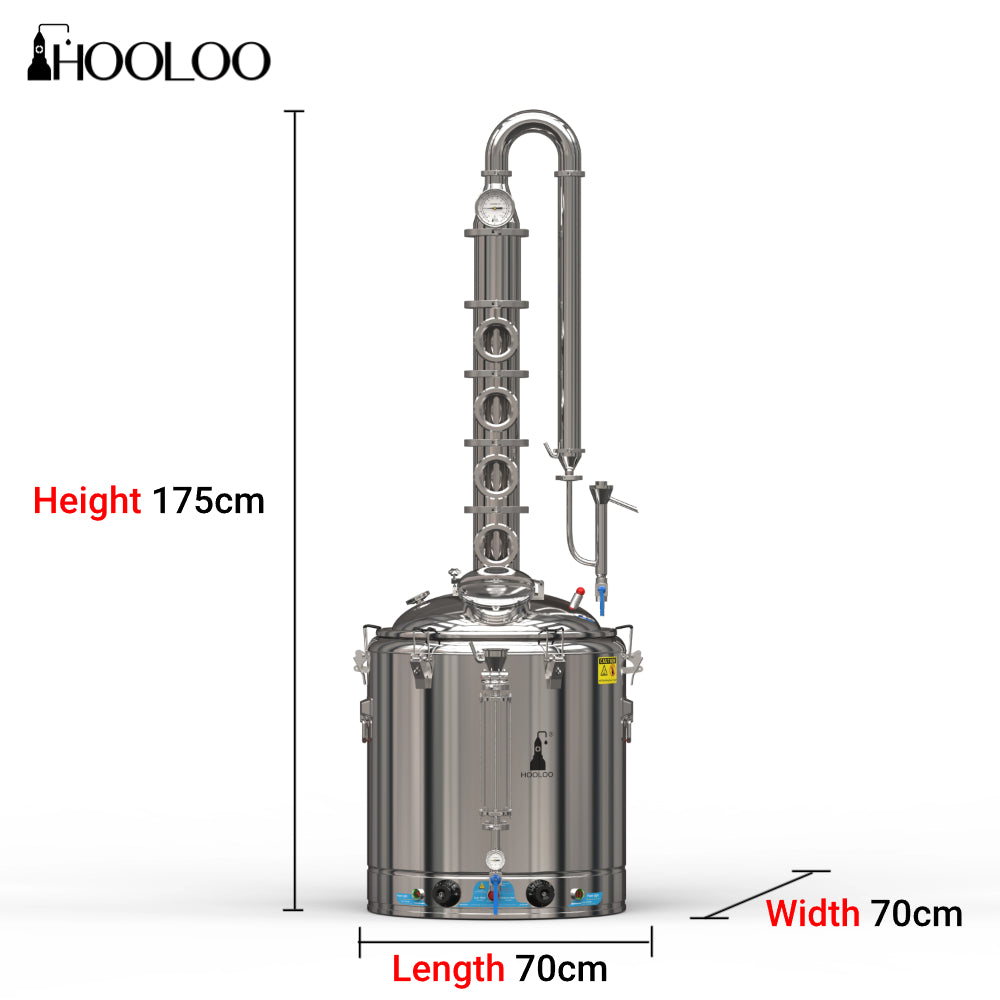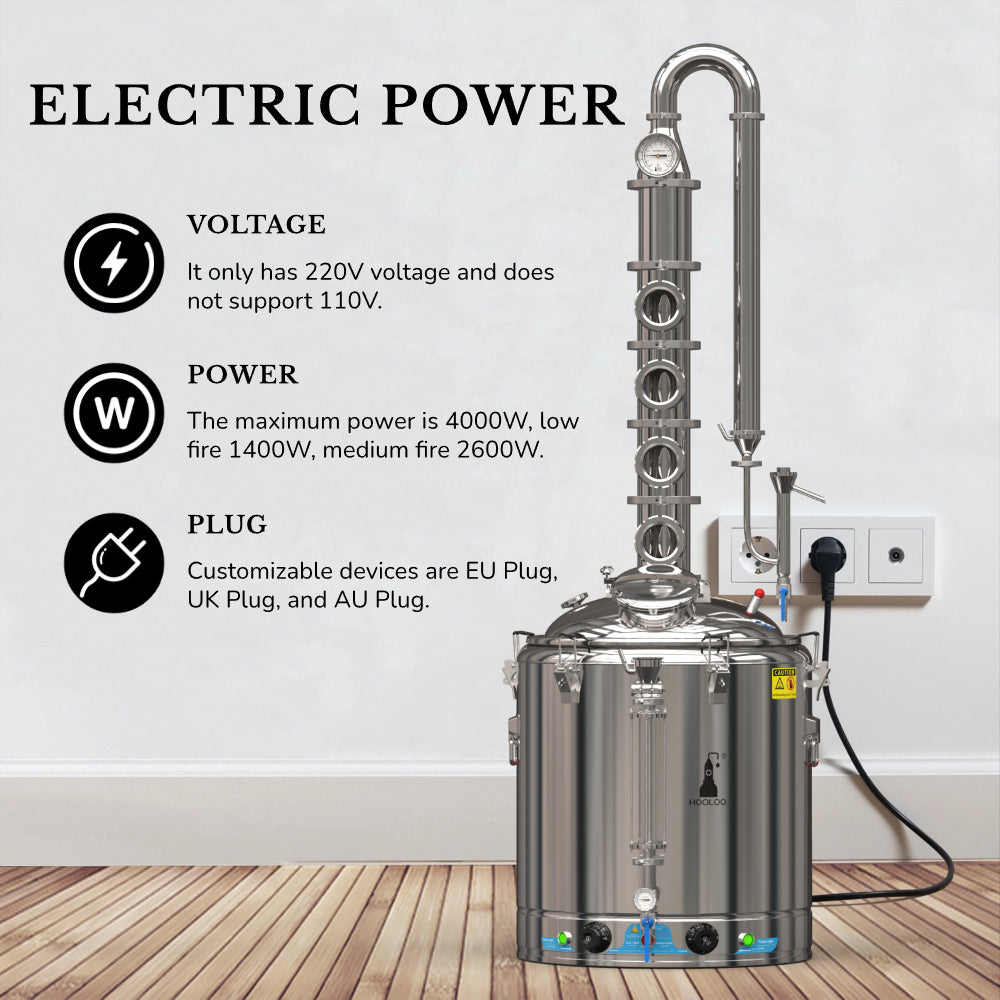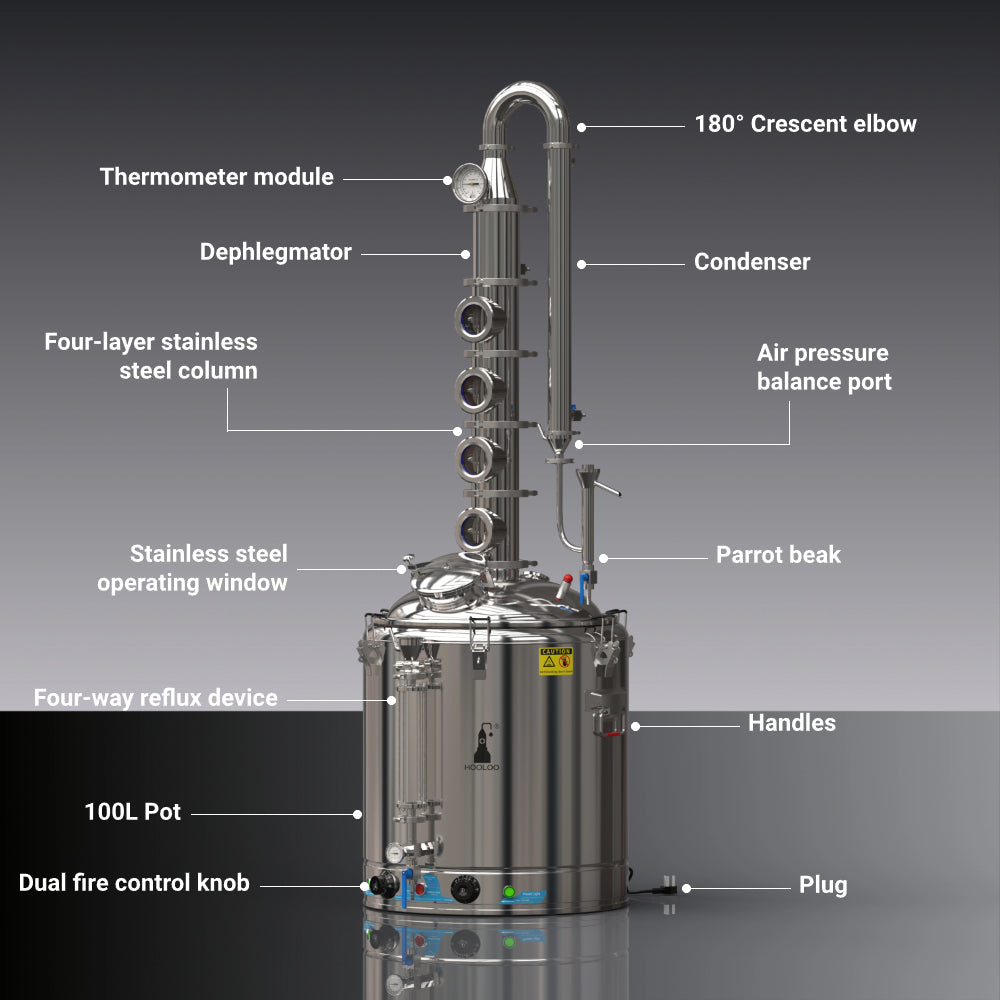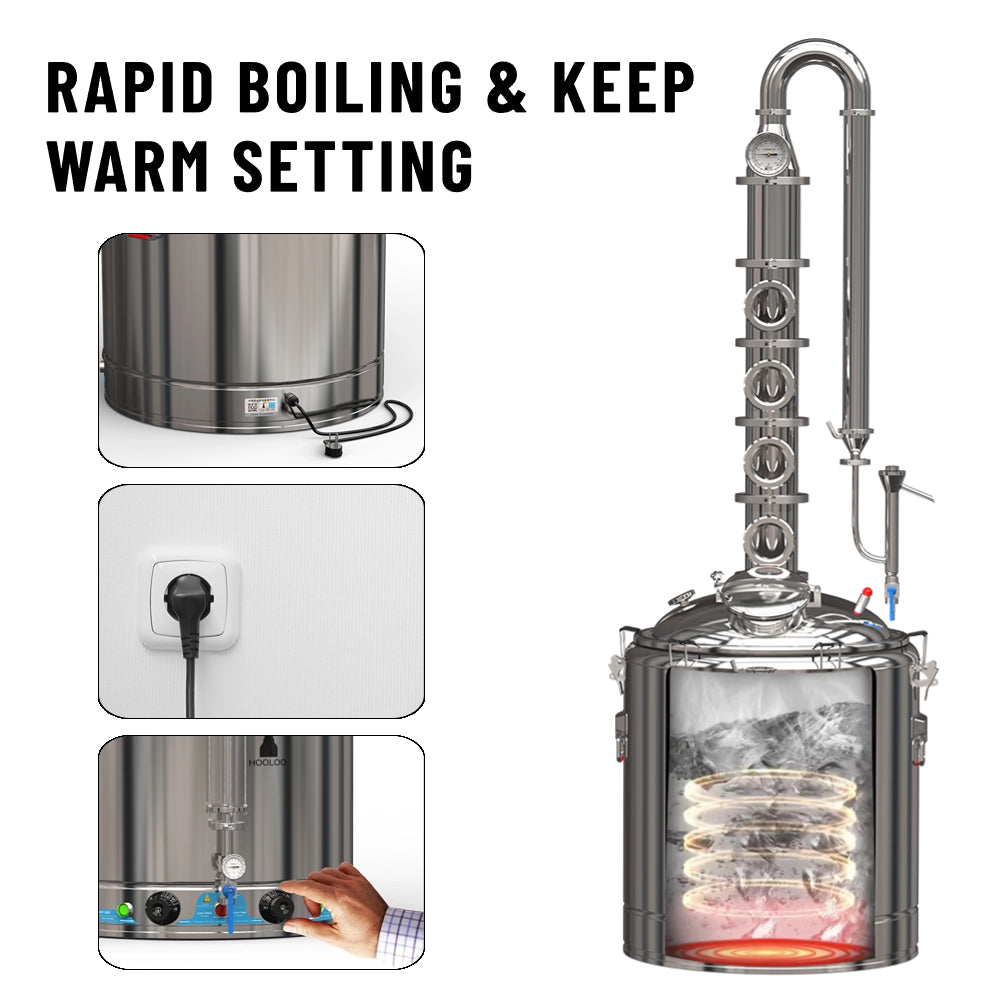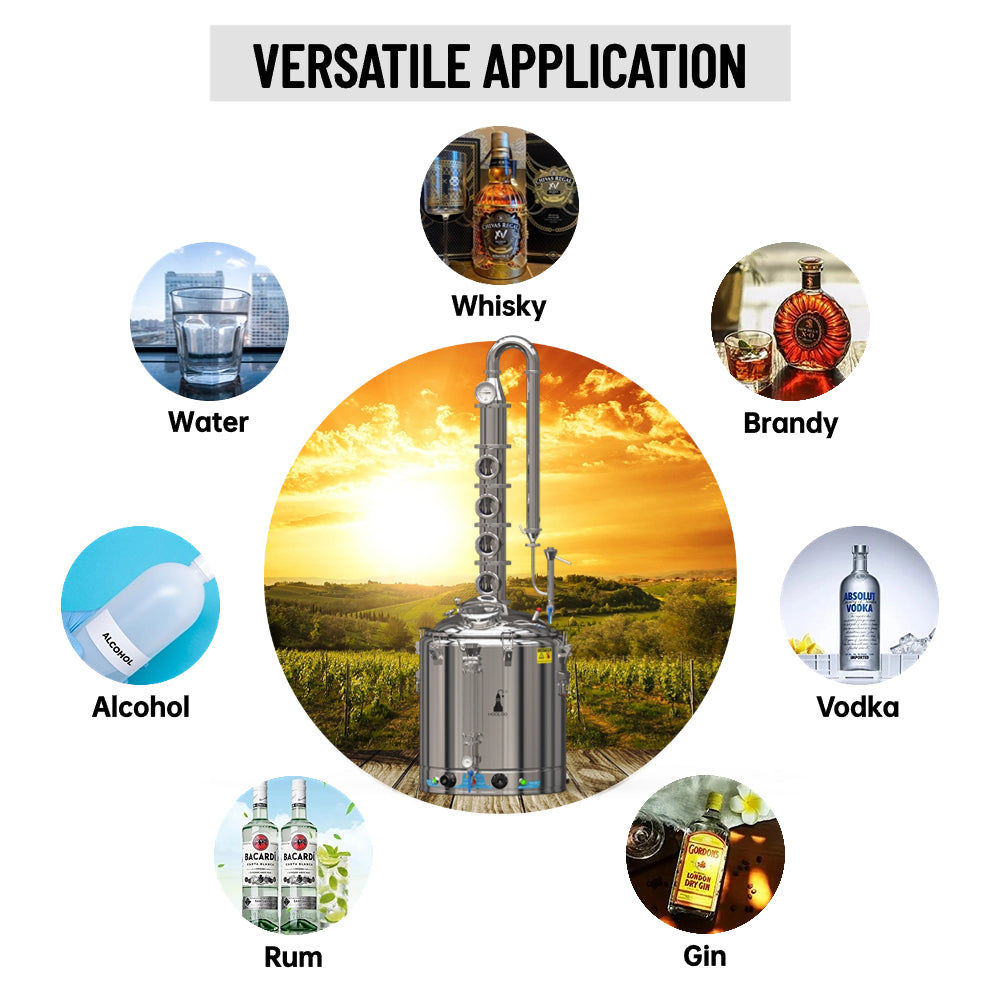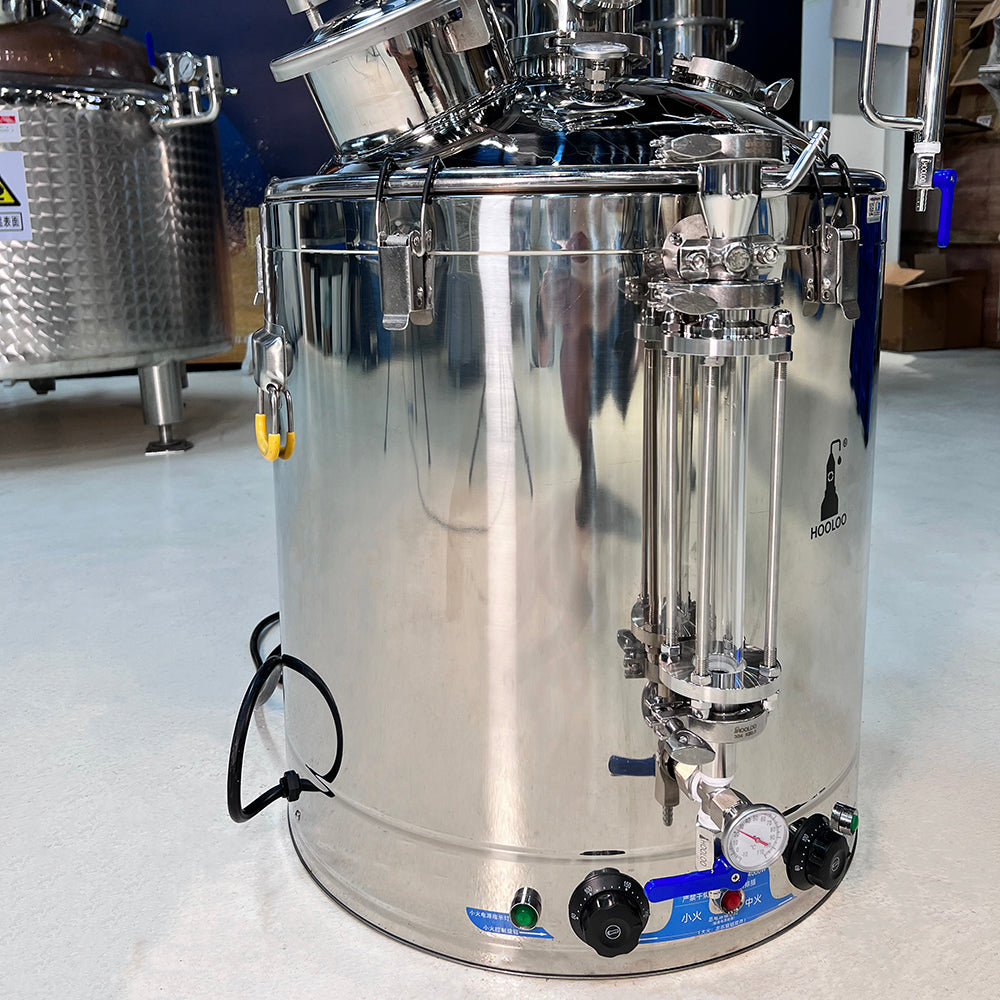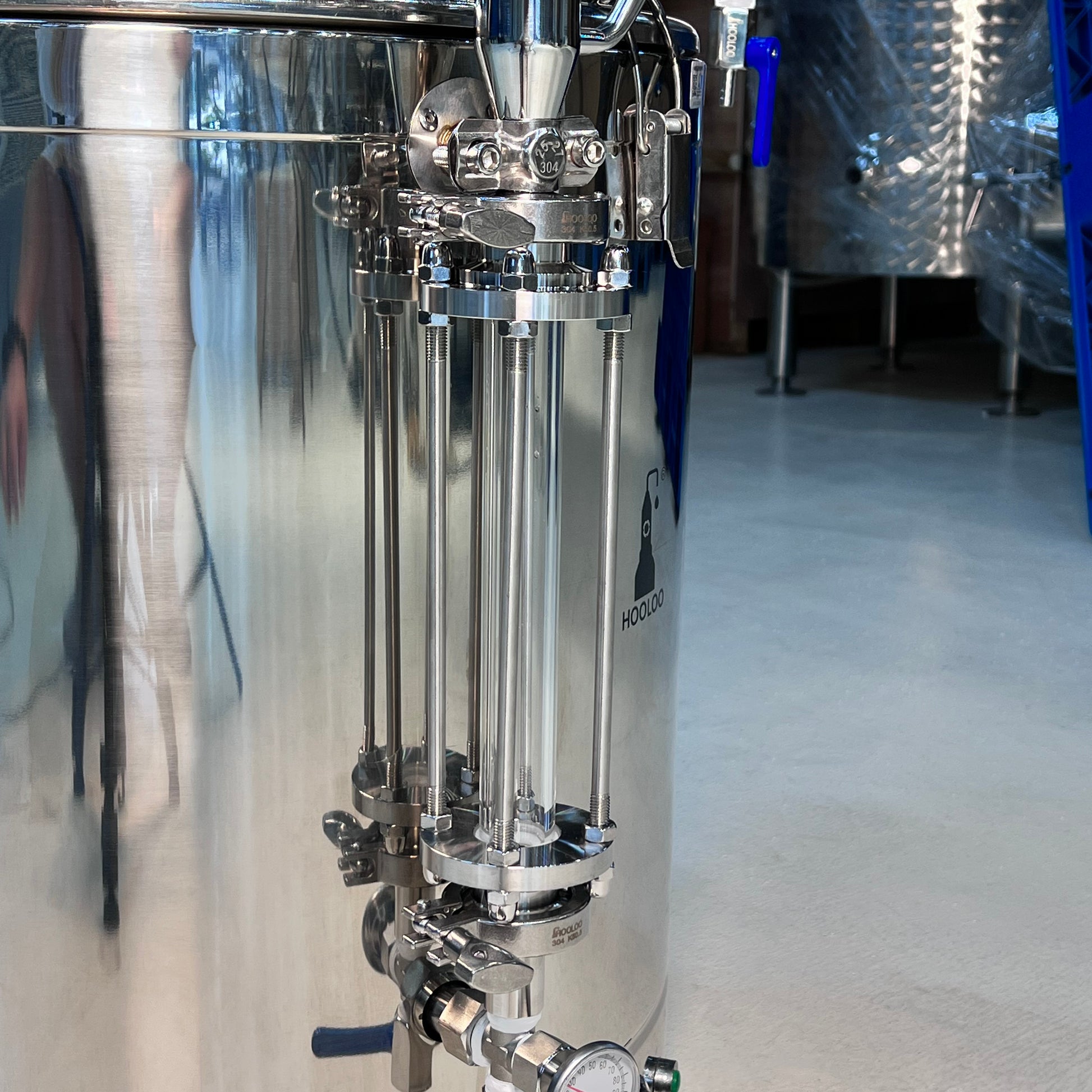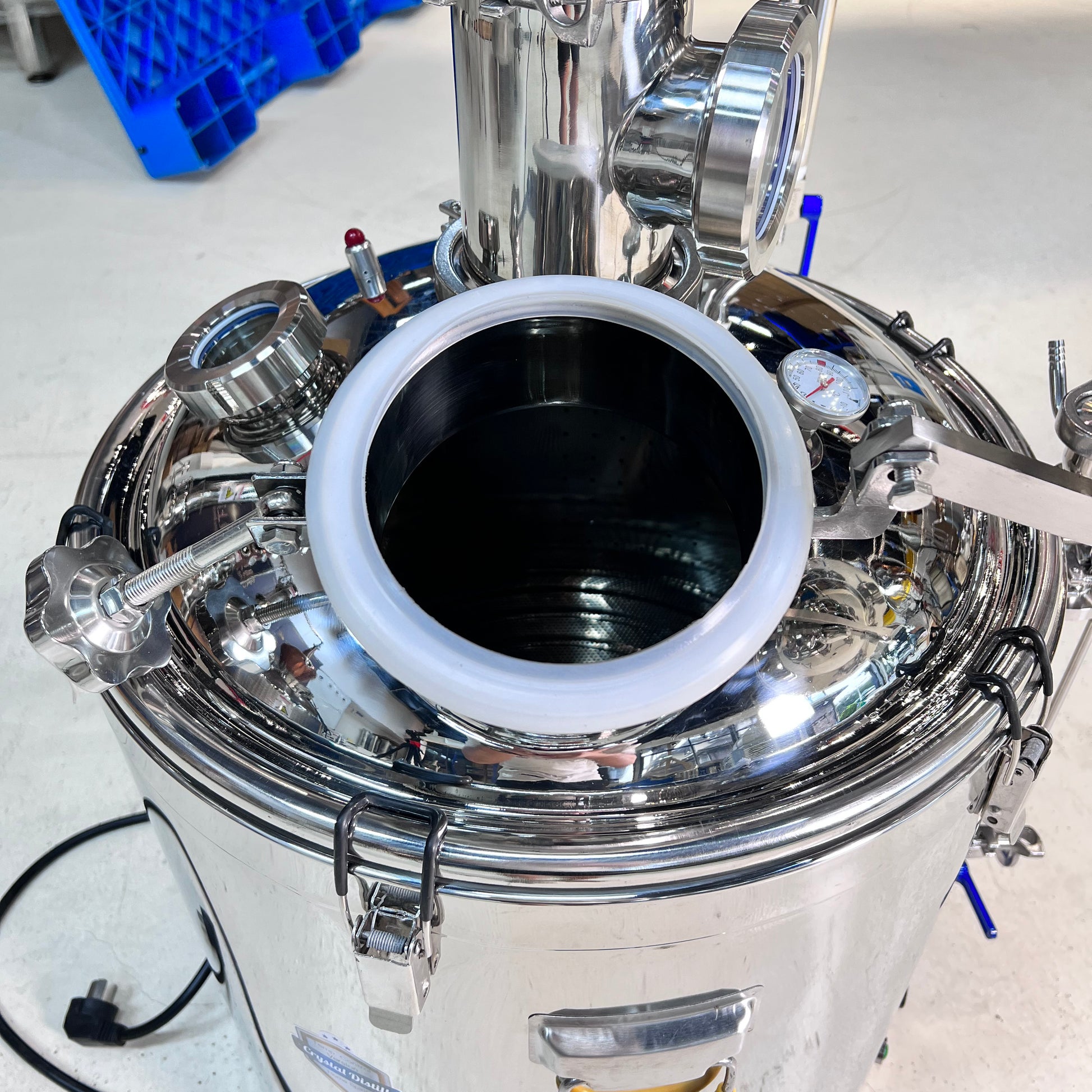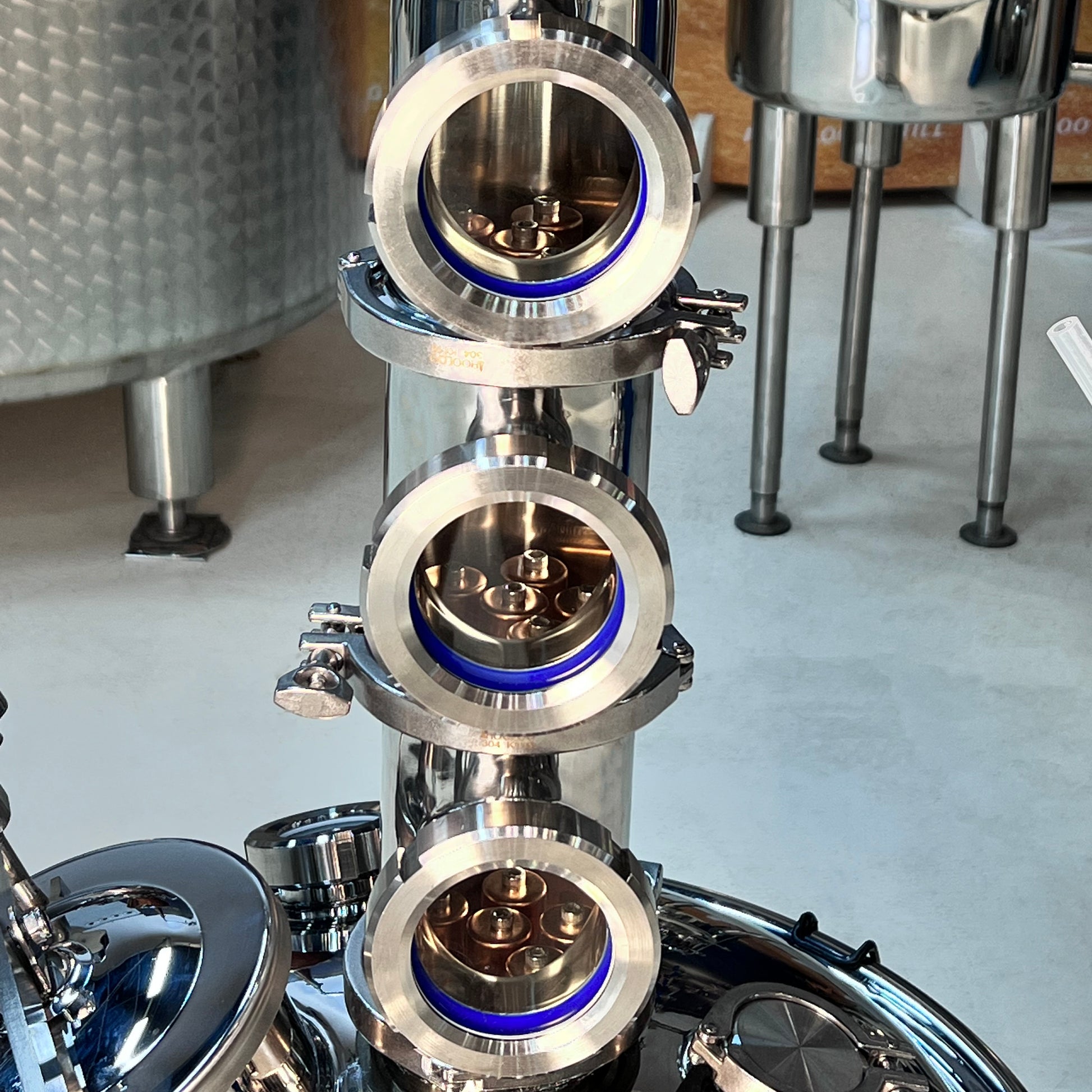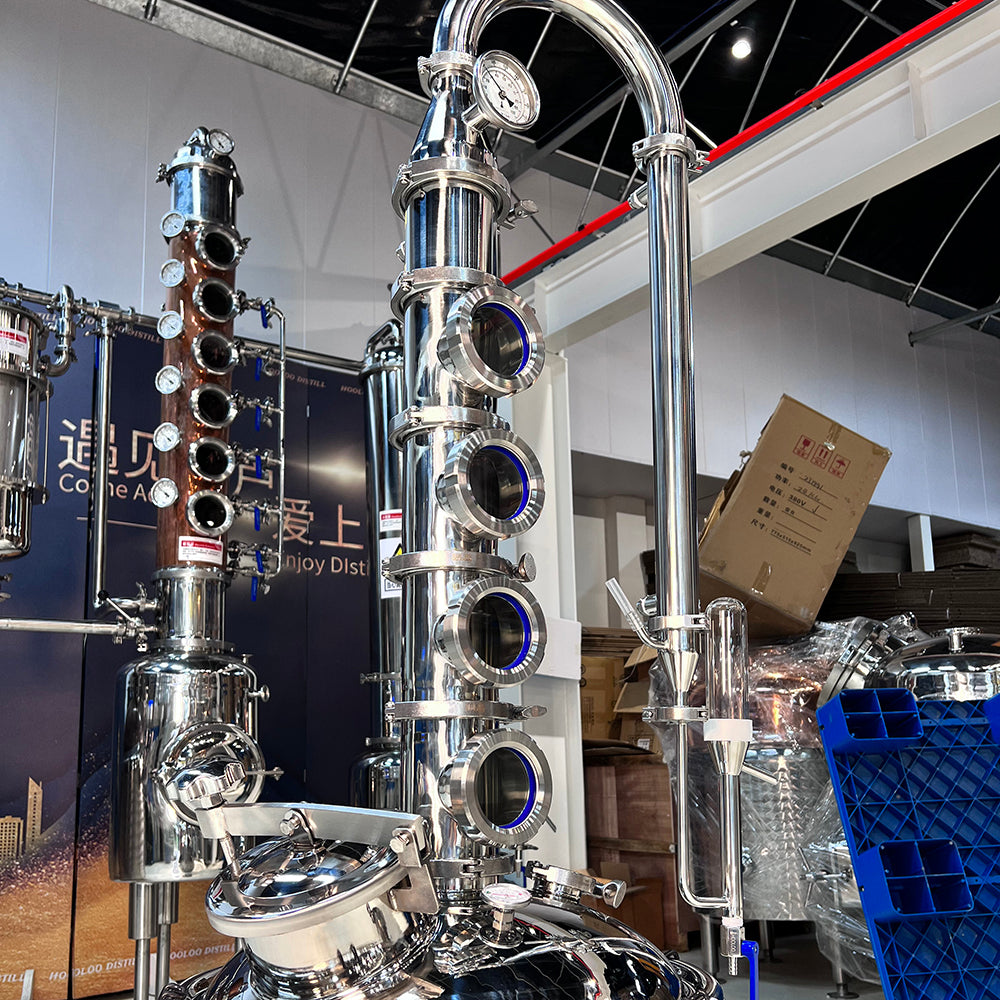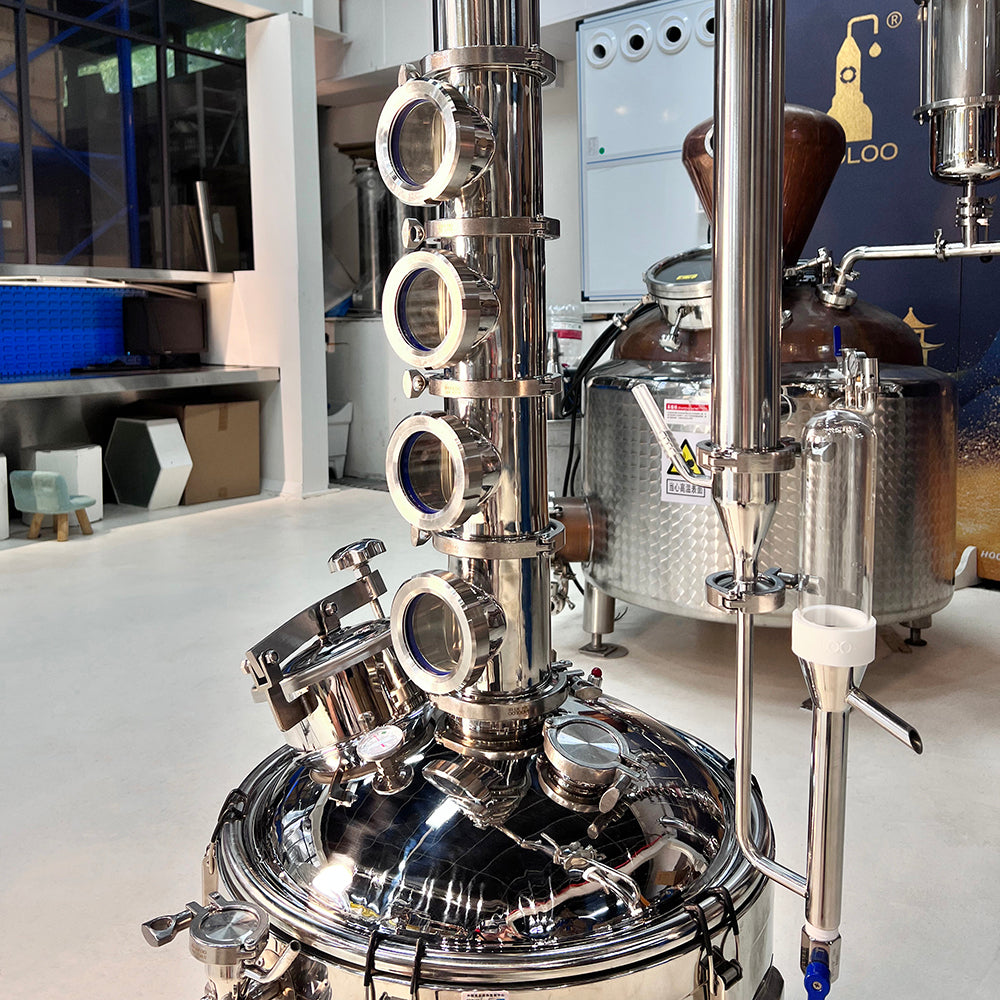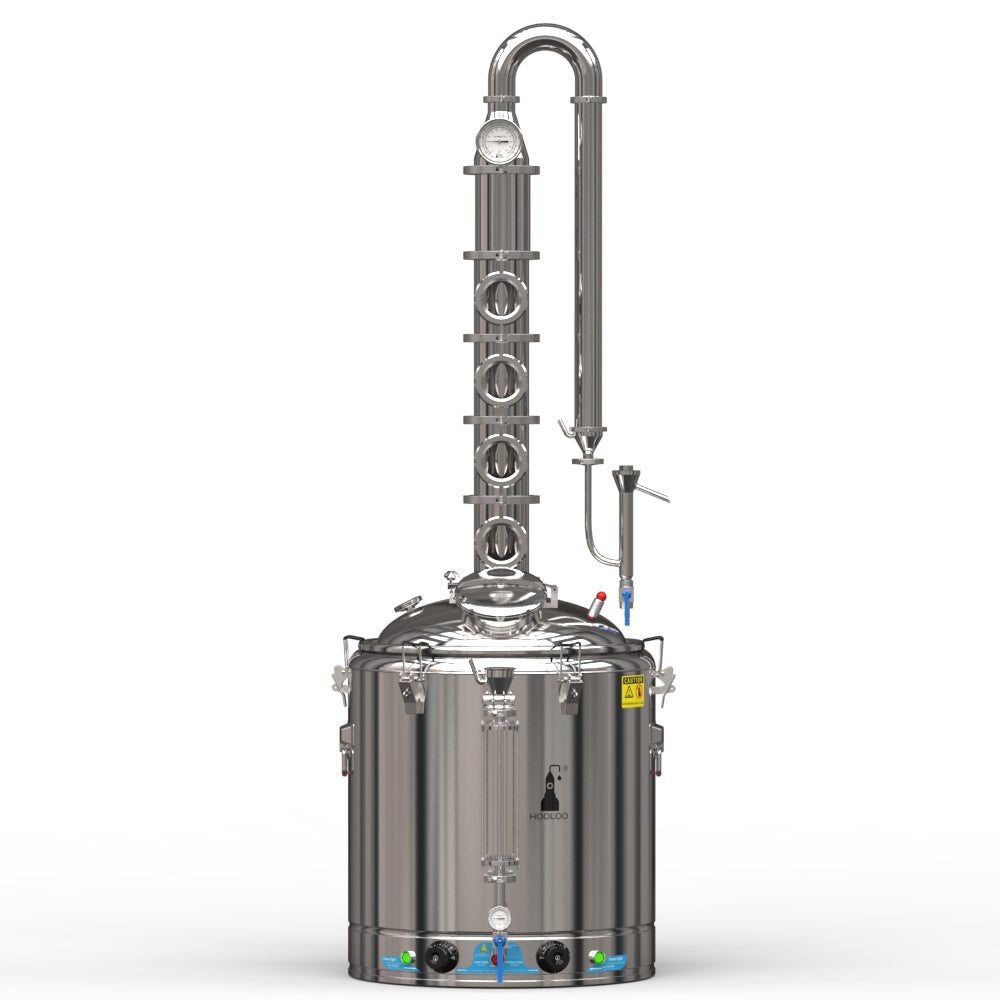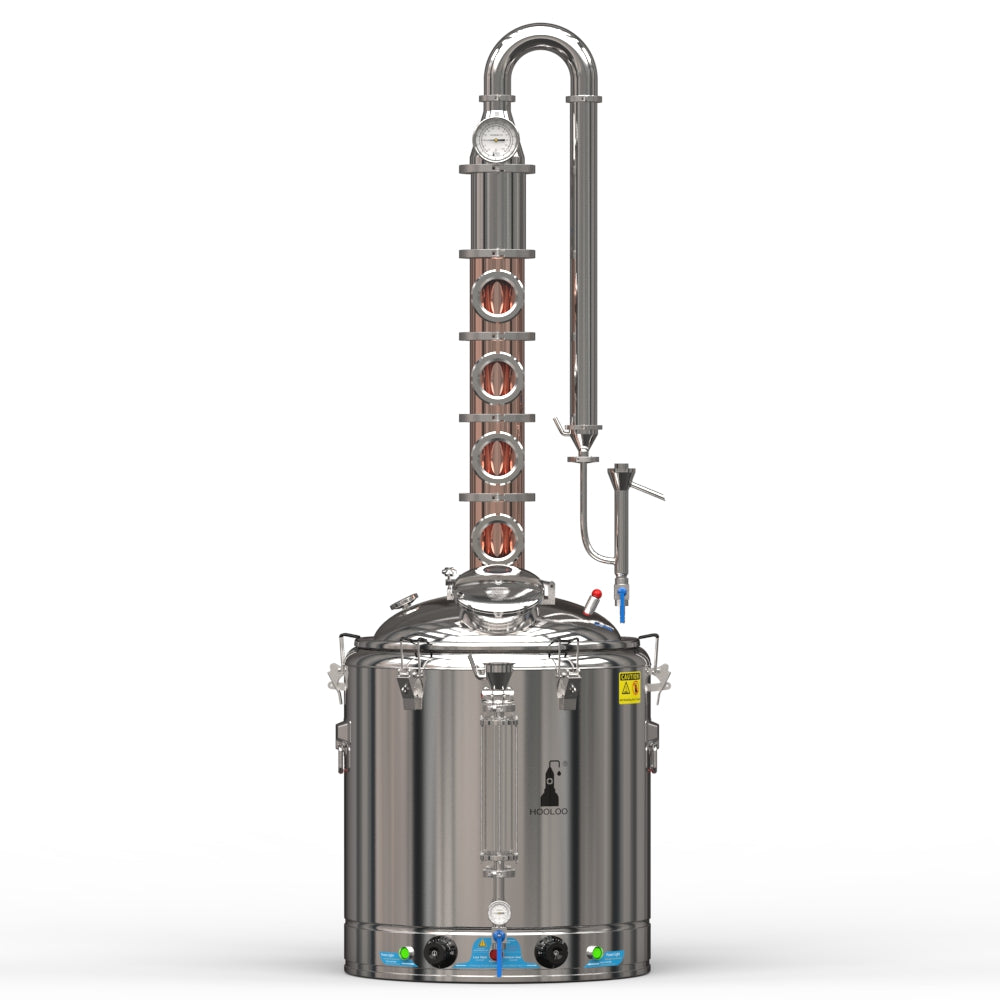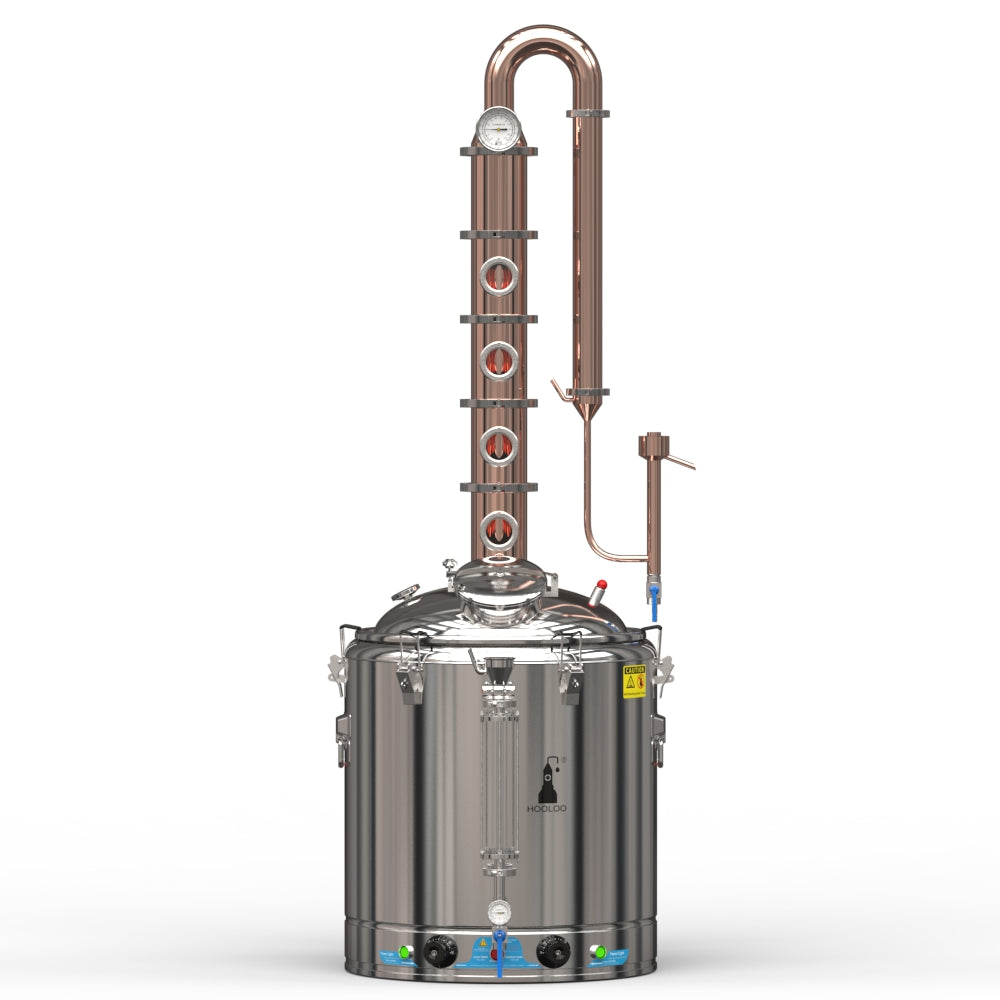 HOOLOO DW100-ST/CS/CU Distiller
Regular price
$1,839.00 USD
Sale price
$1,839.00 USD
Regular price
Product description
Shipping & Return



HOOLOO DW100 Distiller

HOOLOO DW100 distiller, three spirits distillers for you to choose from, suitable for families and small workshops for distillation, unique four-way reflux device, this design improves distillation efficiency, refines products, adjusts taste, saves energy and improves safety. Large amounts of copper combine with sulfides to eliminate sulfides in spirits, quickly remove methanol/formaldehyde, and accurately remove fusel oils. Highly recommended for the distillation of brandy, whiskey, rum, etc.







Encounter Hooloo and enjoy distilling!

High-quality spirits

Easy to Operate

Durable & Tight Seal

Versatile Application

High Quality Material, Pay Less

The company created its own "HOOLOO" brand, registered the US trademark of the HOOLOO brand, and passed ISO9001, ISO14001, CE, FCC certification. At present, it mainly produces and assembles small and medium-sized distillation equipment (including brewing equipment, pure dew essential oil equipment, etc). The company's team has strong product research and development capabilities and professional service capabilities. New products are launched irregularly every month. Many products have design patents and invention patents.

The company's products are mainly for three types of customers: domestic and foreign brewing users, pure dew essential oil lovers, and disinfectant alcohol producers.

Premium Tough Quality

Incredibly Low Prices

Fast & Secure Delivery

24/7 Attentive Service

 
Note:
1, After receiving and installing it, please make a distillation of distilled water. This operation is used for product sterilization and testing, and is also for familiarity with machine operation.
2, Please clean and dry the distiller after using.
3, Please allow 1-3cm error due to manual measurement. Please make sure you do not mind before you bid.
 

Starting a new distillation revolution

Brand new 100 liter boiler designed to revolutionize your distilling experience. The power unit operates on 220V and delivers up to 4000W, ensuring fast and efficient distillation. What really sets this boiler apart is its anti-stick design, which solves the age-old problem of burning the bottom. With a low flame knob rated at 1400W and a high flame knob operating at 2600W, you can precisely control the heating process and eliminate any worries about fuel management.

Four-Way Reflux Innovation

The DW100 Distillation Unit, when paired with a four-way reflux device, revolutionizes the distillation process. This setup optimizes temperature and reflux control, ensuring precise vapor flow and condensation regulation. It separates alcohol from impurities with precision, resulting in top-quality spirits with refined flavors. Additionally, it reduces energy consumption, offering an eco-friendly approach to crafting exceptional spirits. In essence, the DW100 with the four-way reflux device is a game-changer for distillation.

Stainless steel operating window

The DW100 features a lid with a convenient stainless steel feeding port, offering several advantages. This innovative design eliminates the need to lift the lid when adding ingredients, ensuring a seamless and efficient distillation process. Additionally, the feeding port is equipped with a food-grade silicone seal, providing excellent airtightness to maintain the integrity of your distillation. This feature not only simplifies the operation but also enhances safety and overall user experience.

Column Choice: SS304 or Copper

The DW100 distiller comes with a standard four-inch, four-layer stainless steel column, which serves as its foundational model. However, it allows users to upgrade to higher configurations for a customized distillation experience. The stainless steel column offers durability and corrosion resistance, while the copper column provides excellent heat conductivity for precise temperature control. Whether you prioritize durability or precision, the DW100 offers options to meet your specific distillation needs.

Versatile Applications

The DW100 is a versatile distiller, perfect for producing top-quality whiskey, brandy, and rum, making it an essential tool for distilleries and enthusiasts. Its innovative 4-layer stainless steel column with copper bubble plates ensures efficient separation and purification, enabling experimentation with various ingredients and techniques. The international fast-fit interface allows for easy accessory customization, showcasing its exceptional multi-functionality for a range of distillation scenarios.

Parrot Beak

The parrot on the DW100 serves as a crucial tool for distillation, providing real-time measurements of the distillate's alcohol content. This feature ensures accurate monitoring and allows for adjustments, ultimately leading to the production of consistent, high-quality spirits. Additionally, we offer the option to purchase a glass dust cover and an alcohol hydrometer for use with the parrot, enhancing the overall distillation experience and maintaining a clean environment.
Specifications

Name: DW100 Distiller

Heating: Electric Heating

Capacity: 100L

Working Capacity: 80L

Voltage: 220V

Size: 70×70×175cm

Weight: 38kg

Power: 4000W

Free gift

1 x Sieve Basket

1 x Cooling pipe

1 x Globe valve

1 x Water fitting

1 x Sponge wipe

1 x Spare sealing ring

1 x Silicon tubeX0.5 meter
Product Photograph