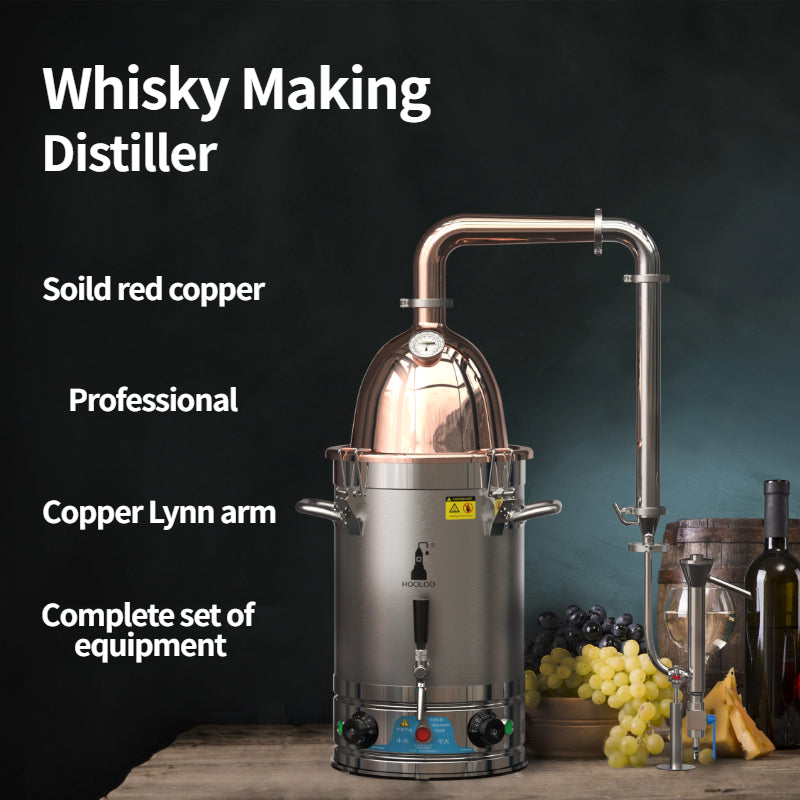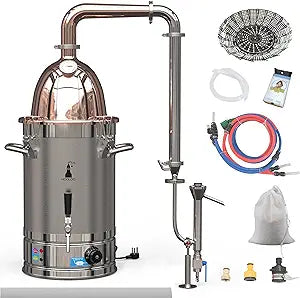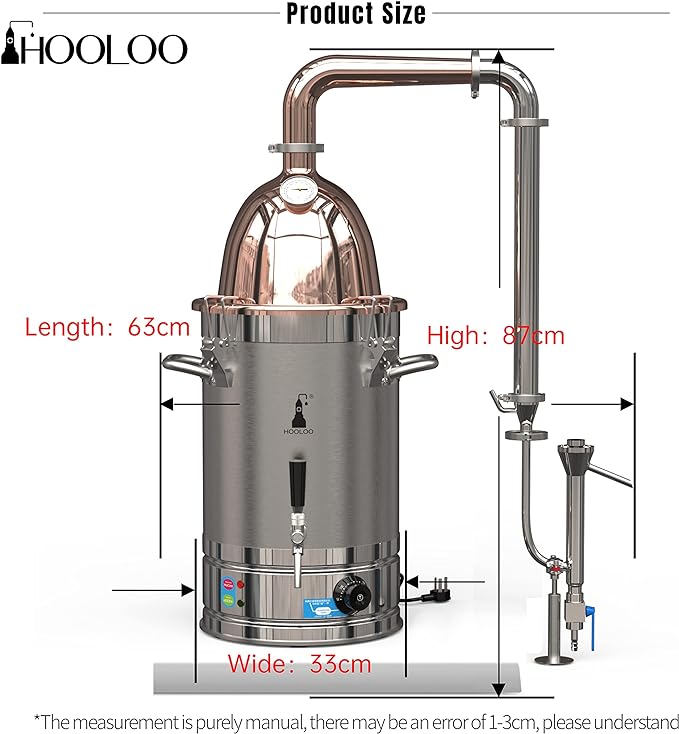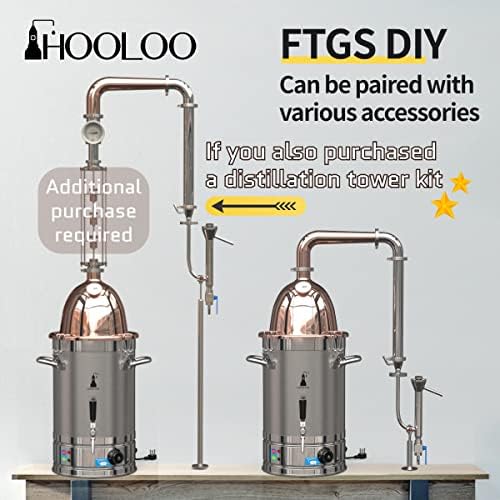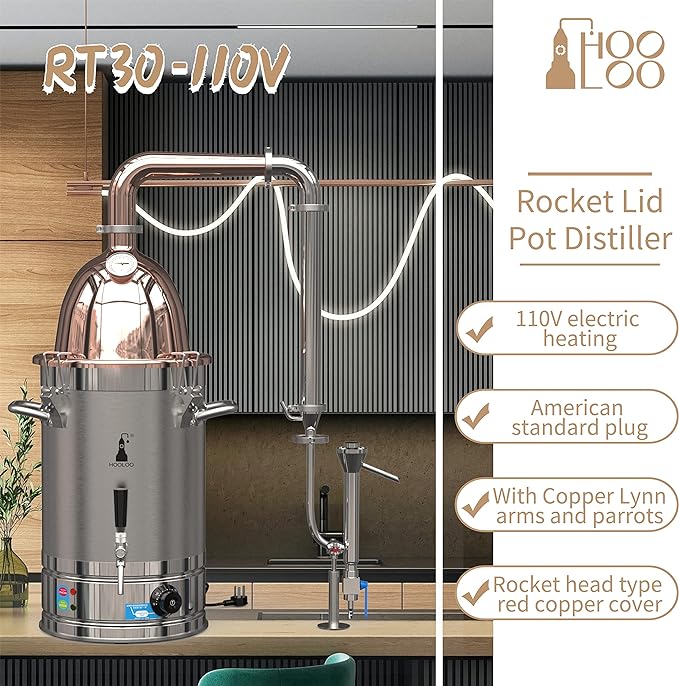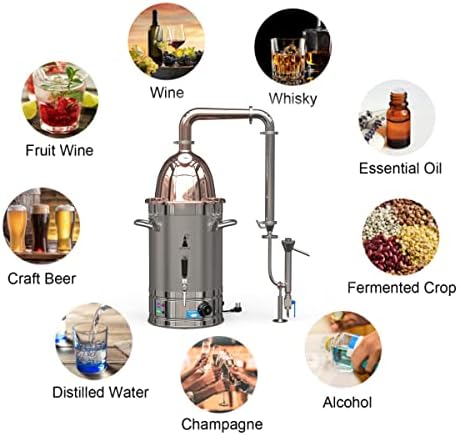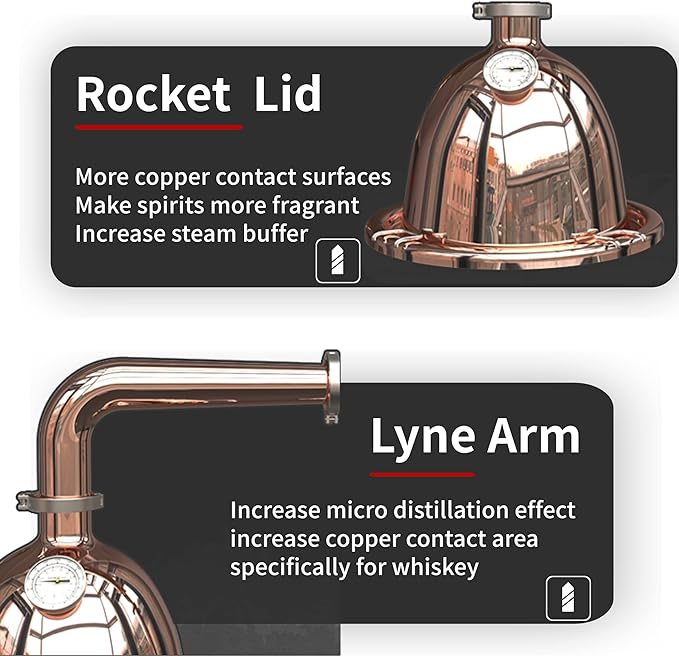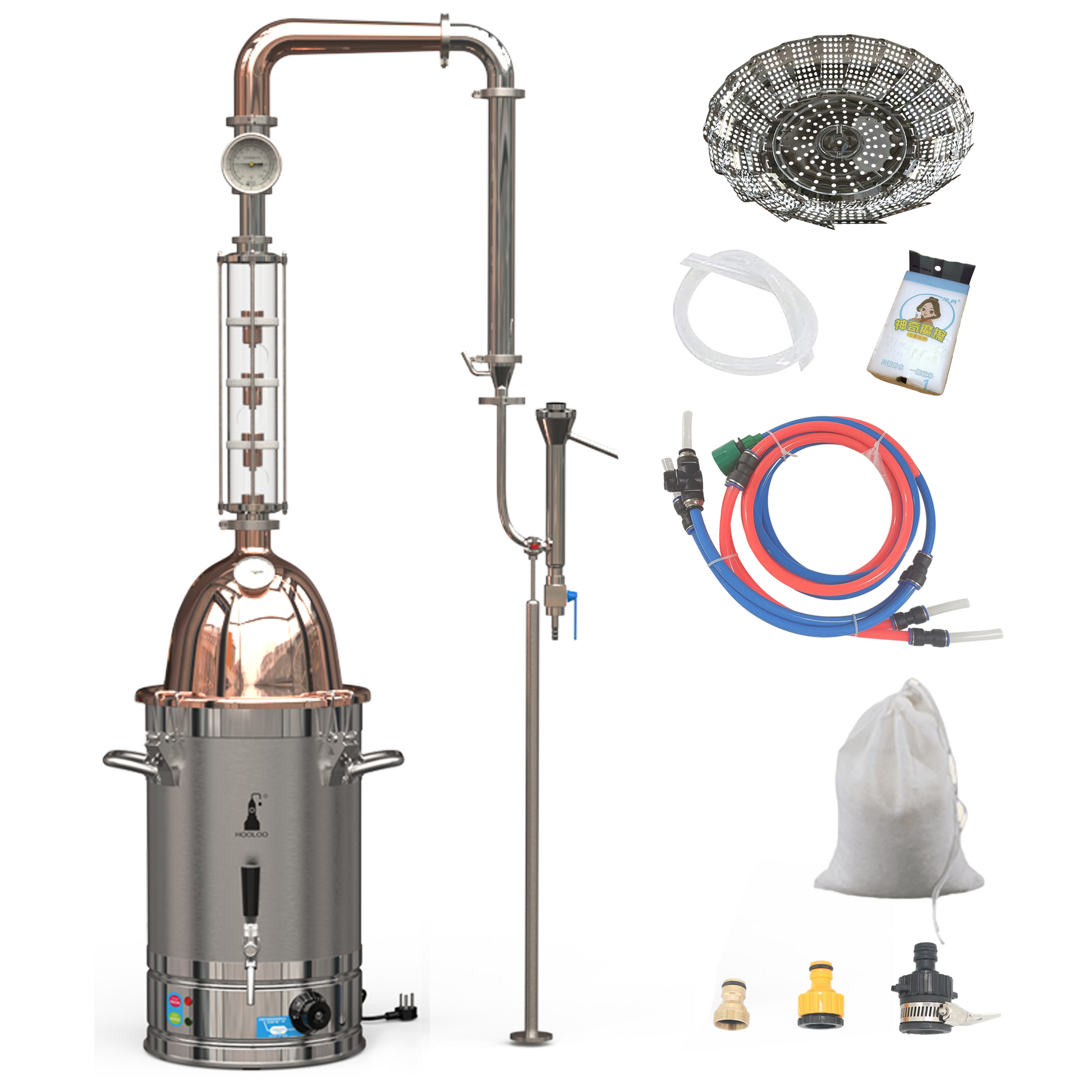 Regular price
$1,199.00 USD
Sale price
$1,199.00 USD
Regular price
Product description
Shipping & Return
High quality: The alc ǒ hól distiller is made of 304 stainless steel. It is a complete set of dischargers, with 110V electric heating plate, which is very convenient for starters or professionals the first choice for DIY. (Total capacity: 30L/8Gal; Working capacity: 24L/6.34Gal, Height: 52 inches)

Unique design: Rocket head type copper cover with relief valve safety device and thermometer. If liquid is poured from the top interface after the cover is installed, more volume can be added.

Unique design: red copper Lynn arm is beautiful and can have partial distillation effect. Increase copper contact surface. Enhance the effect of flavor purification. With the help of fire control, the pure flavor of the primary distillate can be obtained.

Multi function: Our whiskey making kit can not only make spirits but also be used for heater, steam distribution, and alc ǒ hól at home. According to your preference, you can make alc ǒ hól, ethanol, distilled water making, essential oil, and so on.

100% Quality assurance: When you purchase a making kit, we will provide you with a 1-year warranty, if there are any problems please feel free to contact us, we will be the first to solve them for you.


Note

:

 

Products with electrical plugs are designed for use in the US. Outlets and voltage differ internationally and this product may require an adapter or converter for use in your destination. Please check compatibility before purchasing.
HOOLOO 8Gallaon Rocket Copper Lid 110V Electric Heating Distiller
30Liters (8Gallon)
Total capacity: 30L/8Gal; Working capacity: 24L/6.34Gal
Rocket Copper Lid with Lynn arm 110V Electric Heating Distiller
RT30 Copper Rocket Lid
(1) Mirror red copper surface treatment, rocket head shape, high-end domineering
(2) With a 2-inch thermometer, you can observe the boiling point of the alcohol in the pot
(3) Red point shows the 120 Bar pressure relief valve made of aluminum, if the tower meets the overflow or blocked by fermenting things. It will ensure safe operation
(4) The use of red copper can improve thermal conductivity and heat distribution, resulting in more efficient and even distillation.
(5) The rocket head shape of the helmet not only looks high-end and domineering, but also helps to reduce vapor loss and increase the purity of the distilled product.
Red Copper Lynn Arm
(1) Improved flavor: Red copper lyne arms can improve the flavor of distilled spirits by removing unwanted sulfur compounds.
(2) Heat conduction: Copper is an excellent conductor of heat, allowing for efficient transfer of heat from the distillation process, resulting in better control of temperature and smoother distillation.
(3) Aesthetics: The unique color and appearance of red copper lyne arms can add to the overall aesthetic appeal of a distillation setup, making it a popular choice among distillers.
Parrot
(1) Accurate measurement: The Parrot Beak allows for accurate measurement of the distillate, providing real-time feedback on the proof and quality of the distilled product.
(2) Reduced waste: With the Parrot Beak, there is less waste as the operator can more precisely control the distillation process and avoid overproduction of low-quality distillate.
(3) Improved efficiency: The Parrot Beak can help increase efficiency in the distillation process by providing continuous monitoring and feedback, allowing for adjustments to be made in real-time.
30L (8Gal) stainless steel pan with electric heating plate.
30L (8Gal) stainless steel pot with 110V electric heating
Benefits:
(1) Made of 304L stainless steel.
(2) American standard plug, 110V voltage, can be plugged in for use after receiving.
(3) 1800w electric heating plate, adjustable by knob, easy to use.